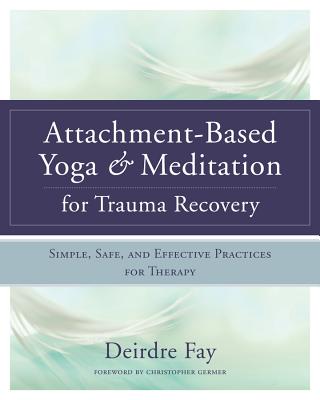 Attachment-Based Yoga & Meditation for Trauma Recovery (Hardcover)
Simple, Safe, and Effective Practices for Therapy
W. W. Norton & Company, 9780393709902, 352pp.
Publication Date: April 11, 2017
* Individual store prices may vary.
Description
A practical but far-reaching look at a variety of mind-body techniques for working with trauma clients.
This book offers an unprecedented, attachment-informed translation of yogic philosophy to body-based trauma treatment. The result is both erudite and accessible, emphasizing ready-to-implement skills and approaches that are as groundbreaking as they are effective. Organized around key trauma issues and symptoms, this book offers clinicians a practical but far-reaching look at mind-body skills and techniques for helping trauma clients access their individual wisdom, develop secure internal attachment, and find the path home to the Self.
About the Author
Deirdre Fay, MSW, LICSW, integrates trauma and attachment theory with yoga and meditation in embodiment. The founder of the Becoming Safely Embodied Skills, she maintains a private practice in Arlington, MA.
Praise For Attachment-Based Yoga & Meditation for Trauma Recovery: Simple, Safe, and Effective Practices for Therapy…
[A] welcome addition to the literature on treating trauma. It is remarkable for its thorough review of the attachment literature and its detailed introduction of yogic psychology. . . . It will be helpful to therapists working with trauma, yoga teachers seeking further insight into attachment, and students seeking information about integrating treatment modalities.

Deirdre Fay's Attachment-Based Yoga & Meditation for Trauma Recovery is a perfect fusion of heart, soul, and science—a rare and welcome mixture in a professional book! Fay gracefully integrates neuroscience and attachment research with the perspective of the yoga and meditation world to create a practical, compassionate guide to understanding the painful struggles of traumatized clients badly failed by their primary attachment figures. This beautifully written book also describes a cutting edge best-practice model for trauma treatment and offers a toolkit of accessible, practical strategies inspired by yoga and meditation practice. All therapists need this book—if only for inspiration!

— Janina Fisher, PhD, author of Healing the Fragmented Selves of Trauma Survivors

I know Deirdre Fay to be an excellent trauma therapist who weaves together a number of complementary approaches. So it is no surprise that she has produced an impressive volume that combines her extensive study of yoga with many innovative trauma therapies and with attachment theory. Full of practical exercises, it will be of great value to therapists and clients alike.
— Richard C. Schwartz, PhD, Developer of the Internal Family Systems Therapy model of psychotherapy

Deirdre Fay, internationally renowned for her work on becoming safely embodied, has succeeded in introducing an extraordinary, integrative approach to trauma and therapy. Rooted in our understanding of attachment processes, this book outlines key sources of shame and dissociation that can underpin trauma and divert healing. Fay textures her insights with new and fascinating ways of utilizing body-based meditations, compassion-focused skills, and yoga approaches to help people engage body and mind in healing trauma and other emotional wounds. Unique, engrossing, and deeply pragmatic, this book is an important contribution to the field and will be of immense value to those working with traumatized people.
— Paul Gilbert, PhD, FBPsS, OBE, author of The Compassionate Mind

This book you hold in your hand—do not put it down! Attachment-Based Yoga and Meditation for Trauma Recovery is not only a major contribution to the literature of trauma treatment, it is one of the most moving books you will ever read. You don't have to be in recovery from trauma or a healing professional to absorb the lessons of heart, body, mind, and spirit it offers, page after page. This book will change you at the most profound and life-altering level. Deirdre Fay has created an astonishing resource that integrates wisdom traditions of yoga and meditation, in both philosophy and practice, with current understanding and research in trauma treatment. I wept, I learned, and I cheered as I read.Finally, someone has the wisdom to integrate it all. Thank you, Deirdre Fay!

— Amy Weintraub, Founder, LifeForce Healing Institute, author of Yoga Skills for Therapists and Yoga for Depression