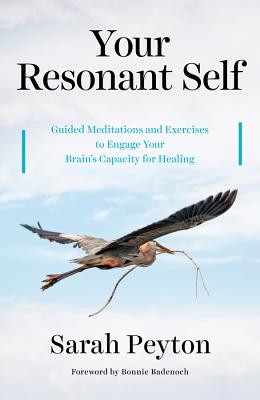 Your Resonant Self
Guided Meditations and Exercises to Engage Your Brain's Capacity for Healing
Hardcover

* Individual store prices may vary.
Other Editions of This Title:
Digital Audiobook (12/17/2018)
Description
Practices for well-being, based in neuroscience and geared toward kindness.
Skills for people to learn to be with themselves in the healthiest way possible.
When we experience trauma or need to find a way to protect ourselves from interpersonal hurt, we make unconscious contracts with ourselves, such as: "I will never let myself get treated that way again" or "I will never forgive myself for that." But these contracts often result in harmful behaviors like self-criticism, lack of trust, and procrastination. Until we recognize and free ourselves from these damaging contracts, we can never truly heal.
Your Resonant Self Workbook: From Self-sabotage to Self-care takes us through the world of relational neuroscience and, using the lens of unconscious contracts, explores how our brains, nervous systems, and bodies react to the brains, nervous systems, and bodies of others. Case studies, resonant-language practice, questionnaires, mediations, and journaling provide readers with healing strategies for uncovering and rewriting these contracts. Following Your Resonant Self, this workbook provides the tools to turn inward with kindness, warmth, and curiosity and create opportunities for self-healing.
Praise For Your Resonant Self: Guided Meditations and Exercises to Engage Your Brain's Capacity for Healing…
Peyton bridges the gap between neuroscience
and daily practice, offering meditations that change the way our brains
function, help us integrate past painful experiences, and see ourselves
with a newfound tenderness and compassion. I would recommend this
book to anyone seeking to heal pain and find a more enriching life.
— Psych Central

In Your Resonant Self, Peyton gives such a clear description of how our brain interplays with our emotions, our values, and our longings, that we can begin to understand the purpose of our negative self-talk and the stress we hold from past trauma. From this new perspective we have on our struggles, Peyton guides us brilliantly towards the peace and joy we long for, using soothing meditations, positive self-talk, self-empathy, and real-life examples. Giving this book to yourself will be the best gift you have received in a long time.

— Kathy Masarie, MD, pediatrician, parent, life coach, and author of Raising Our Daughters/Sons and Face to Face

Your Resonant Self is a brilliant book that brings together brain research with resonant/empathic communications' technology. With real stories and guided meditations, Sarah Peyton shows how to heal emotional pain and illustrates how that healing alters the brain, creating lasting change. With Sarah's gentle guidance you can follow the exercises in the book to help you with your own personal recovery efforts. From healing shame and self-hate to overcoming phobias and addictions, this book has it all. From my own journey with healing and growth, I know the tools in this book work. I celebrate that Sarah wrote this remarkable book and hope it reaches around the world to create healing for all who suffer.

— Melanie Sears, RN, MBA, PhD, author of Humanizing Health Care and Choose Your Words

Sarah Peyton's guided meditations go beyond the usual feel-good meditations of affirmation—they actually change our brain and our feelings about ourselves. Because they are based on the findings of neuroscience and how the brain behaves, we experience the creation of self-warmth toward ourselves, call back our dissociated self and learn to hold our pain with tenderness. This is a superb book. I can't wait to recommend it.
— Karen Carnabucci, LCSW, TEP, co-author of "Integrating Psychodrama and Systemic Constellation Work"
W. W. Norton & Company, 9780393712247, 384pp.
Publication Date: September 12, 2017
About the Author
Sarah Peyton is a neuroscience educator, Certified Trainer of Nonviolent Communication, and constellation facilitator. She is the author of Resonance series: Your Resonant Self, Your Resonant Self Workbook, and Affirmations for Turbulent Times. She lives with two cats and a dog in a multigenerational family household in Vancouver, Washington.

Bonnie Badenoch, MA, LMFT, is a marriage and family therapist. mentor, and speaker. She is executive director of the nonprofit Nurturing the Heart with the Brain in Mind in Vancouver, WA, offering support to those in the healthcare professions through year-long immersion trainings in interpersonal neurobiology.