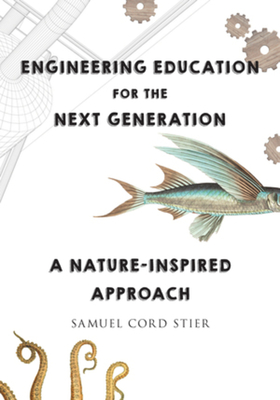 Engineering Education for the Next Generation
A Nature-Inspired Approach
Paperback

* Individual store prices may vary.
Description
Guide your students through the fascinating world of engineering, and how to draw inspiration from Nature's genius to create, make, and innovate a better human-built world.
Studded with more than 150 illustrations of natural phenomena and engineering concepts, this fascinating and practical book clearly demonstrates how engineering design is broadly relevant for all students, not just those who may become scientists or engineers. Mr. Stier describes clever, engaging activities for students at every grade level to grasp engineering concepts by exploring the everyday design genius of the natural world around us. Students will love learning about structural engineering while standing on eggs; investigating concepts in sustainable design by manufacturing cement out of car exhaust; and coming to understand how ant behavior has revolutionized the way computer programs, robots, movies, and video games are designed today. You will come away with an understanding of engineering and Nature unlike any you've had before, while taking your ability to engage students to a whole new level.
Engineering Education for the Next Generation is a wonderful introduction to the topic for any teacher who wants to understand more about engineering design in particular, its relation to the larger subjects of STEM/STEAM, and how to engage students from all backgrounds in a way that meaningfully transforms their outlook on the world and their own creativity in a lifelong way.
· Fun to read, comprehensive exploration of cutting-edge approaches to K-12 engineering education
· Detailed descriptions and explanations to help teachers create activities and lessons
· An emphasis on engaging students with broad and diverse interests and backgrounds
· Insights from a leading, award-winning K-12 engineering curriculum that has reached thousands of teachers and students in the U.S. and beyond
· Additional support website (www.LearningWithNature.org) providing more background, videos, curricula, slide decks, and other supplemental materials
Praise For Engineering Education for the Next Generation: A Nature-Inspired Approach…
Sam Stier offers an altogether new hands-on approach to teaching engineering that draws upon the excitement of living things that are all around us in the world. I only wish that some of my K-12 teachers would have read this extraordinary book.
— Norman R. Augustine, Retired Chairman & CEO, Lockheed Martin Corp.

As a 30-year veteran of STEM education, I consider Engineering Education for the Next Generation: A Nature-Inspired Approach among the best resources I have ever seen.

— Brett Criswell, PhD Assistant Professor of Secondary Education, Science, West Chester University

With Sam Stier's work, our students leverage their astonishment and amazement of Nature towards ambition and activism in tackling the immense challenges ahead. Blending solid science with infinite possibility, Sam Stier reminds us that we are not yet finished evolving. 
— Robert Gilson, M.A., M.Ed., STEAM Specialist, Blue School, NYC

As Stier unpacks how nature has provided an inspiration for innovators and inventors, he creates a compelling case as to why STEAM educators should utilize nature-inspired examples as students first examine the engineering process and engage in engineering experiences. 
— Christine Anne Royce, Ed.D., Professor of Science Education, Shippensburg University and 2018-2019 NSTA President

It is such a wonderful book that I wish I were a K-12 teacher ready to jump into this. The chapter on structural engineering is what we teach to second-year engineering students. My initial thought when I started reading was, why introduce this topic so early to K-12 students? And when I finished, my thought was, why not?
— Mariappan Jawaharlal, PhD, Professor of Mechanical Engineering, California State Polytechnic University, Fellow, Biomimicry Institute

Enhanced with the inclusion of thirty-two pages of Notes and a thirty-one page Index, Engineering Education for the Next Generation: A Nature-Inspired Approach will prove to be an ideal and extraordinary curriculum textbook that is unreservedly recommended for school district in-service teacher training programs, as well as college and university library Teacher Education collections and supplemental studies reading lists. 

— Midwest Book Review
W. W. Norton & Company, 9780393713770, 360pp.
Publication Date: March 10, 2020
About the Author
Sam Stier is Executive Director of The Center for Learning with Nature (www.LearningWithNature.org), a non-profit organization providing STEM curricula and teacher training founded on the captivating power and modern importance of the natural world. Mr. Stier leads teacher trainings for primary, secondary, and post-secondary educators all over the world, workshops for design professionals, and is a sought-after public speaker. A consultant on Nature-inspired technological innovation and author of the award-winning K-12 curriculum Engineering Inspired by Nature, he is a faculty member at Otis College of Art and Design in Los Angeles, where he teaches science and sustainable design.
or
Not Currently Available for Direct Purchase