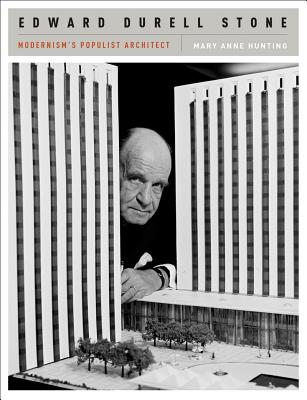 Edward Durell Stone
Modernism's Populist Architect
Hardcover

* Individual store prices may vary.
Description
"Colossus," "visionary," "giant" are superlatives used in the mid-twentieth century to describe Edward Durell Stone (1902–1978), a celebrity architect whose wholly unique modern aesthetic of "new romanticism" played a crucial role in defining middle-class culture.
Framed between the Great Depression and the oil embargo of the early 1970s, the distinguished career of the native Arkansan is represented on four continents, in thirteen foreign countries, and in thirty-two states—his masterpiece the American Embassy chancery (1953–59) in New Delhi, India. Recognized in his prime as one of the nation's most sought-after architects, Stone's vast and prestigious workload brought prosperity on a scale rare in architecture in his time; after the death of Frank Lloyd Wright, some supporters thought Stone seemed destined to take the place of his personal hero and close friend as the great national architect.
But Stone also drew divergent reactions. Such International Style buildings as his Museum of Modern Art (1935–39) in New York City, an austere, unornamented volume, won critical approval; in contrast, his monumental postwar architecture—the John F. Kennedy Center for the Performing Arts (1958–71) in Washington, DC, among the best known—exposed popular tastes by offering a broader definition of Modernism inclusive of decoration.
Enhanced interest in Stone's architecture has been spurred by the reconsideration of a number of his buildings. The former Gallery of Modern Art (1958–64) at 2 Columbus Circle in New York City, which was lost to a near complete makeover, stimulated vigorous and at times contentious discussion that made evident the need for an objective reassessment. His legacy—of giving form to the aspirations of the emerging consumer culture and of reconciling Modernism with the dynamism of the age—is established in
Edward Durell Stone: Modernism's Populist Architect
.
Praise For Edward Durell Stone: Modernism's Populist Architect…
[T]horoughly researched, well-documented, highly illustrated book. Hunting's is the first dispassionate account of Stone's career: a scholarly complement to the two autobiographical tomes Stone penned in the 1960s and the biography recently published by his youngest son. . . . [A]n enthusiastic and well-written biography.
— Journal of the Society of Architectural Historians

The highs and lows of Stone's career are meticulously laid out in this well-researched monograph . . . . The projects documented in this compendium certainly convinced this reviewer that Stone's massive achievements do indeed merit a thoughtful reappraisal. . . . What author Hunting has given us is a well-told, well-documented and well-illustrated story of a talented designer's lifelong striving to shape an architecture that satisfied both his inner vision and his clients' desires.
— Traditional Building

Given its depth of research and fairness, this will be the definitive book on Stone for years to come.
— Cerise Press

As Mary Anne Hunting's book makes clear . . . Stone tapped into a widespread desire – shared by the design professions and the public – for an easily understood Modernism, a Modernism that would challenge stark functionalism with the sensuous, the luxurious, and occasionally the monumental. . . . One of the virtues of Hunting's book is its inclusion of numerous little-known projects, such as the furniture line and some modest houses, that shed light on the development of Stone – and of the design world generally.
— officeinsight

[M]easured and methodical in its singular argument that Stone is underestimated and unfairly maligned in the profession. . . . Hunting's admirable and meticulous research is shown in the range of information she has gleaned from sources high and low.
— DOCOMOMO

In reassessing Stone's important contributions to American Modernism Hunting's meticulously documented text also brings to life his charm and colorful personality. . . . [T]he book immerses the reader in Stone's milieu and strengthens one's understanding of just how much he accomplished in bringing modernism to Everyman.
— Antiques

Architecture lovers who believe Romantic Modernism is an oxymoron clearly haven't read Mary Anne Hunting's exquisitely written volume on America's forgotten populist modern architect Edward Durell Stone. . . . Hunting's approach reveals Stone's technicolour dream with absolute perfection. This is a volume for the serious architecture lover and those in search of a brilliantly written biography.
— Identity
W. W. Norton & Company, 9780393733013, 176pp.
Publication Date: November 26, 2012
About the Author
Architectural historian Mary Anne Hunting received her doctorate from the City University of New York's Graduate Center and a master's degree in the history of decorative arts and design from the Cooper-Hewitt, National Design Museum/Parsons School of Design. She lives in New York City with her husband and twin children.
or
Not Currently Available for Direct Purchase