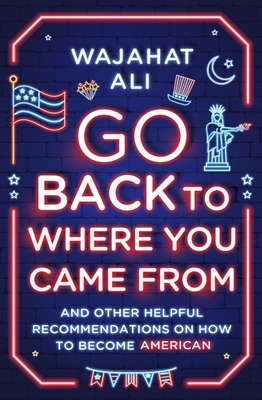 Go Back to Where You Came From
And Other Helpful Recommendations on How to Become American
Hardcover

* Individual store prices may vary.
Description
A rollercoaster ride of a memoir, by turns hilarious and heartbreaking, by the journalist, playwright, and political activist Wajahat Ali. 
"Go back to where you came from, you terrorist!" This is just one of the many warm, lovely, and helpful tips that Wajahat Ali and other children of immigrants receive on a daily basis. Go back where exactly? His hometown in the San Francisco Bay Area, where he can't afford rent?
Awkward, left-handed, suffering from OCD, and wearing Husky pants, Ali grew up on the margins of the American mainstream, devoid of Brown superheroes, where people like him were portrayed as goofy sidekicks, shop owners with funny accents, sweaty terrorists, or aspiring sweaty terrorists. Driven by his desire to expand the American narrative to include protagonists who look like him, he became a writer, and in the aftermath of the 9/11 terror attacks, an accidental activist and ambassador of all things Muslim-y. He uses his pen with turmeric-stained fingernails to fill in missing narratives, challenge the powerful, and booby trap racist stereotypes. In his bold, hopeful and hilarious memoir, Ali offers indispensable lessons and strategies to help cultivate a more compassionate America.
Praise For Go Back to Where You Came From: And Other Helpful Recommendations on How to Become American…
Wajahat Ali's deeply personal and keenly perceptive memoir is a clear-eyed account of his American immigrant experience—an experience that is both unique and universal. We are all fortunate to be on the receiving end of not only his intellect, but his humanity and heart.
— Katie Couric, Emmy Award-winning journalist

This is the book I've been hoping Wajahat Ali would write for ten years—hilarious, stylistically fearless, deeply humane.
— Dave Eggers, author of The Every

Wajahat Ali writes with effervescent verve, an easy wit, and a bracing moral clarity. This book made me laugh out loud, tear up, giggle, google recipes for Pakistani food, and think long and hard about what it means to be an American. Easily the most enjoyable book I've read in years.
— journalist Julia Ioffe

Ali brilliantly and lovingly unpacks the complicated history and urgent lived experience of being otherized in America. At once a tragedy and comedy . . . a must-read.
— S. E. Cupp, author of Losing Our Religion and coauthor of Why You're Wrong About the Right

A tender knife-sharp analysis of racism . . . personal, painful, familial, and global
— Juan Felipe Herrera, United States Poet Laureate Emeritus

This book is—appropriately enough—Wajahat in book form: smart, hilarious, very into food, and deeply empathetic. He's the very best of America, and this book can help you be too.
— Franklin Leonard, founder of The Blacklist

Reveals the pain of loving a nation that doesn't always love you back.
— Laila Lalami, author of Conditional Citizens

Timely and engrossing, balancing sharp satire and deep empathy, Wajahat Ali's brilliant, hilarious, and eye-opening book will make any reader want to come to his block party.
— Sunny Hostin, author of I Am These Truths

A hilarious and heartwarming treatise on what it truly means to be American in the twenty-first century. You'll be laughing so hard you won't even notice the inevitable Islamic takeover of America! Oops, I've said too much.
— Reza Aslan, author of God: A Human History

Full of wisdom and compassion, not to mention Ali's signature humor. As educational as it is entertaining. I wish my nine-year-old immigrant self had this book when the playground kids were telling me to go back where I came from.
— Gary Shteyngart, author of Our Country Friends

In prose at times hilarious and at other times deeply moving, Wajahat Ali chronicles a uniquely American experience. All will benefit from reading his story.
— Representative Ilhan Omar

Raw, funny, honest, and most important, all-American
— Kim Ghattas, author of Black Wave

Ali mines the sheer comedic potential of being brown and Muslim in America and dissects the dynamics of bigotry in all its aspects, including Islamophobia and white nationalism. He captures the tragic realities of life in America, and lauds its potential wonders.
— Carla Blank, author and editor (with the Before Columbus Foundation) of Rediscovering America
W. W. Norton & Company, 9780393867978, 256pp.
Publication Date: January 25, 2022
About the Author
Wajahat Ali is a columnist at the Daily Beast and Senior Fellow at the Western States Center and Auburn Seminary. He has written for the New York Times, the Atlantic, and the Washington Post; appears frequently on CNN and MSNBC; and lectures around the world. He lives in the Washington, DC, area.