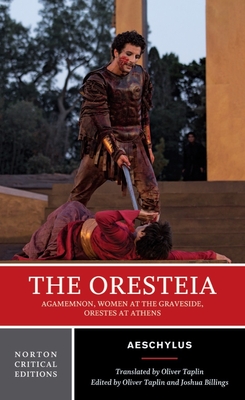 The Oresteia (Norton Critical Editions) (Paperback)
W. W. Norton & Company, 9780393923285, 288pp.
Publication Date: March 15, 2018
Other Editions of This Title:
Paperback (8/9/2018)
Paperback (3/7/2019)
Paperback (9/1/2018)
Paperback (3/11/2009)
Paperback (6/16/2015)
Paperback (10/1/2004)
Paperback (5/16/2014)
Paperback (2/7/1984)
Paperback (6/17/2004)
Hardcover (10/23/2018)
Paperback (1/15/2009)
Paperback (4/1/2008)
Hardcover (1/20/2004)
Paperback (8/1/1993)
* Individual store prices may vary.
Description
"This vivid and accessible translation captures the drama of Aeschylus' poetry and the excitement of the action in performance." —VICTORIA WOHL, University of Toronto



"This critical edition provides a lavish and fulsome picture of ancient Greek tragedy's most significant surviving document." —JOHANNA HANINK, Brown University



Ranked #2 Translation of 2018 by Open Letters Review
This Norton Critical Edition includes:         


Oliver Taplin's new translation of the fifth-century B.C.E. Greek tragedy—a trilogy of revenge and murder within the royal family of Argos—with explanatory annotations by the editors.       


Ancient backgrounds and responses from Homer, Stesichorus, Pindar, Euripides, and Sophocles. ·        


Fourteen wide-ranging critical essays on the Oresteia, from G. W. F. Hegel and Friedrich Nietzsche to Oliver Taplin and Peter Wilson.     


A Glossary of Technical Terms and Proper Names and a Selected Bibliography.


About the Series  
Read by more than 12 million students over fifty-five years, Norton Critical Editions set the standard for apparatus that is right for undergraduate readers. The three-part format—annotated text, contexts, and criticism—helps students to better understand, analyze, and appreciate the literature, while opening a wide range of teaching possibilities for instructors. Whether in print or in digital format, Norton Critical Editions provide all the resources students need.
About the Author
Joshua Billings is Assistant Professor of Classics at Princeton University. He is the author of Genealogy of the Tragic: Greek Tragedy and German Philosophy.

Oliver Taplin is emeritus professor of classics at the University of Oxford. His books range from The Stagecraft of Aeschylus to Pots & Plays. He has recently published translations of Euripides' Medea and Sophocles' Oedipus the King and Other Tragedies.