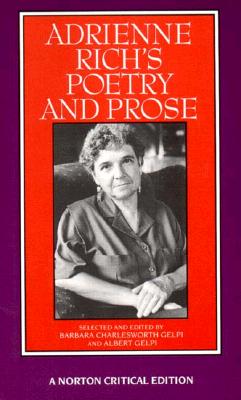 Adrienne Rich's Poetry and Prose (Norton Critical Editions) (Paperback)
W. W. Norton & Company, 9780393961478, 448pp.
Publication Date: May 17, 1993
Description
The editors have also taken into account the many essays on Rich and reviews of her work that have been published since 1975. Some earlier biographical selections have been replaced with works that focus on the quality of Rich's writing and her place in twentieth-century American literature--not just as a poet, but as a woman, a lesbian, and a mother. Criticism includes thirteen reviews and interpretations of Rich's work by W. H. Auden, John Ashbery, Margaret Atwood, Helen Vendler, Judith McDaniel, Adrian Oktenberg, Charles Altieri, and Joanna Feit Diehl, among others. A second recent study by Albert Gelpi traces the events in Rich's life from which her work evolves. An updated Chronology and Selected Bibliography, as well as an expanded Index, are included.
Advertisement