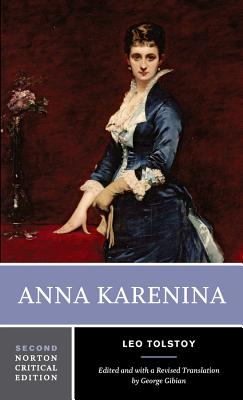 Anna Karenina (Norton Critical Editions) (Paperback)
W. W. Norton & Company, 9780393966428, 880pp.
Publication Date: July 17, 1995
Other Editions of This Title:
Paperback (6/1/2016)
* Individual store prices may vary.
Description
This Second Norton Critical Edition of Leo Tolstoy's epic novel is again based on the Louise and Aylmer Maude translation (originally published in 1918; revised with notes in 1939), which has never been surpassed. This volume reprints the 1939 edition, which the editor has revised, making twenty-one textual changes and revising or adding forty-nine footnotes.
"Backgrounds and Sources" includes central passages from the letters of Tolstoy and his correspondents, S. A. Tolstoy's diaries, and contemporary accounts translated by George Gibian exclusively for this Norton Critical Edition. Together these materials document Tolstoy's writing process and chronicle
Anna Karenina
's reception upon publication during the period 1875–77.
"Criticism" unites Russian and Western interpretations to present the best canonical scholarship on
Anna Karenina
written between 1877 and 1994. A wide range of perspectives is provided by Fyodor M. Dostoevsky, Nikolai N. Strakhov, Matthew Arnold, M. S. Gromeka, D. S. Merezhkovsky, Boris Eikhenbaum, Henry Gifford and Raymond Williams, George Steiner, Lydia Ginzburg, Eduard Babaev, Gary Saul Morson, Caryl Emerson, Donna Tussing Orwin, and George Gibian.
A Chronology of Tolstoy's life and an updated Selected Bibliography are also included.
About the Author
Leo Tolstoy (1828-1910), a giant of world literature, is the author of many classics, including War and Peace and Anna Karenina.

George Gibian was Goldwin Smith Professor of Russian and Comparative Literature at Cornell University. His honors include Fulbright, Guggenheim, American Philosophical Society, and Rockefeller Foundation fellowships. He was the author of The Man in the Black Coat: Russia's Lost Literature of the Absurd, The Interval of Freedom: Russian Literature During the Thaw, and Tolstoj and Shakespeare. He was the editor of the Norton Critical Editions of Tolstoy's Anna Karenina and War and Peace, and Gogol's Dead Souls, and of the Viking Penguin Portable Nineteenth-Century Russian Reader. Professor Gibian's articles have appeared in the Wall Street Journal, The New Republic, the Christian Science Monitor, and Newsday, among others.