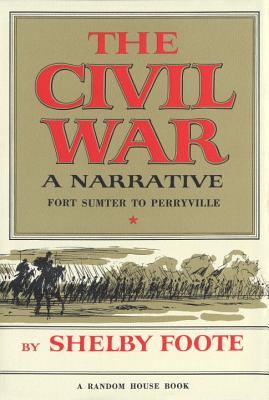 The Civil War: A Narrative (Hardcover)
A Narrative
Random House, 9780394419480, 848pp.
Publication Date: November 12, 1958
* Individual store prices may vary.
or
Not Currently Available for Direct Purchase
Description
Focused on the pivotal year of 1863, the second volume of Shelby Foote's masterful narrative history brings to life the Battle of Gettysburg and Grant's Vicksburg campaign and covers some of the most dramatic and important moments in the Civil War.
Includes maps throughout.
"This, then, is narrative history a kind of history that goes back to an older literary tradition.... The writing is superb...one of the historical and literary achievements of our time." The Washington Post Book World
" Mr. Foote has an acute sense of the relative importance of events and a novelist's skill in directing the reader's attention to the men and the episodes that will influence the course of the whole war, without omitting items which are of momentary interest. His organization of facts could hardly be better." Atlantic
"Though the events of this middle year of the Civil War have been recounted hundreds of times, they have rarely been re-created with such vigor and such picturesque detail." The New York Times Book Review
"The lucidity of the battle narratives, the vigor of the prose, the strong feeling for the men from generals to privates who did the fighting, are all controlled by constant sense of how it happened and what it was all about. Foote has the novelist's feeling for character and situation, without losing the historian's scrupulous regard for recorded fact. The Civil War is likely to stand unequaled." Walter Mills.
About the Author
Although he now makes his home in Memphis, Tennessee. Shelby Foote comes from a long line of Mississippians. He was born in Greenville, Mississippi, and attended school there until he entered the University of North Carolina. During World War II he served in the European theater as a captain of field artillery. In the period since the war, he has written five novels: Tournament, Follow Mc Down, Love in a Dry Season, Shiloh and Jordan County. He has been awarded three Guggenheim fellowships.
Praise For The Civil War: A Narrative…
"Here, for a certainty, is one of the great historical narratives of our century, a unique and brilliant achievement, one that must be firmly placed in the ranks of the masters... a stirring and stupendous synthesis of history."

-- Van Allen Bradley, Chicago Daily News

"A grand, sweeping narrative... will continue to be read and remembered as a classic of its kind."

-- Richard N. Current, N.Y. Herald Tribune

The Civil War:

A Narrative

Fredericksburg to Meridian

"This, then, is narrative history -- a kind of history that goes back to an older literary tradition... The writing is superb ... one of the historical and literary achievements of our time."

-- T. Harry Williams, Book World

"The lucidity of the battle narratives, the vigor of the prose, the strong feeling for the men from generals to privates who did the fighting, are all controlled by a constant sense of how it happened and what it was all about. Foote has the novelist's feeling for character and situation, without losing the historian's scrupulous regard for recorded fact. The Civil War is likely to stand unequalled."

-- Walter Millis
Advertisement