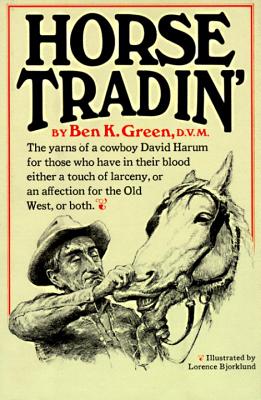 Horse Tradin': The Yarns of a Cowboy David Harum for Those Who Have in Their Blood Either a Touch of Larceny, or an Affection for the (Hardcover)
The Yarns of a Cowboy David Harum for Those Who Have in Their Blood Either a Touch of Larceny, or an Affection for the
Knopf Publishing Group, 9780394429298, 320pp.
Publication Date: May 12, 1967
Description
Each of these twenty authentic tales, hilariously funny and prickly as chaparral brush, is a true account the corrals, livery stables, and wagonyards of the cattlemen's West. They are as dusty as a cow path, and they are filled with the drawls and humor of the old horse traders themselves.
About the Author
Ben K. Green, a native of Cumby, Texas, was the kind of a Westerner who almost crawled out of the cradle and into a saddle, spending his childhood, adolescence and young manhood on horseback. He studied veterinary medicine in the United States and abroad and practiced in the Far Southwest in one of the last big horse counties in North America. When he eventually gave up his practice and research, he returned to Cumby where he lived, raising good horses and cattle until his death in 1974. His other books are Wild Cow Tales; The Village Horse Doctor, West of the Pecos; and Some More Horse Tradin ."
Advertisement