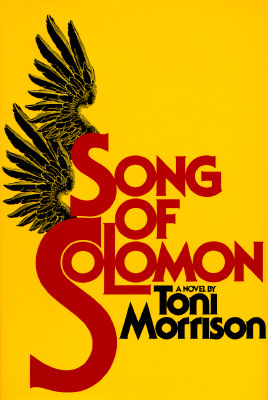 Song of Solomon
Hardcover

* Individual store prices may vary.
Other Editions of This Title:
Digital Audiobook (9/11/2017)
Digital Audiobook (5/25/2009)
Paperback (6/8/2004)
Hardcover (11/14/1995)
Prebound (1/1/2001)
Paperback, Korean (1/30/2020)
Description
Toni Morrison's Song of Solomon, a novel of large beauty and power, creates a magical world out of four generations of black life in America, a world we enter on the day of the birth of Macon Dead, Jr. (known as Milkman), son of the richest black family in a mid-western town; the day on which the lonely insurance man, Robert Smith, poised in blue silk wings, attempts to fly from a steeple of the hospital, a black Icarus looking homeward...

We see Milkman growing up in his father's money-haunted, death-haunted house with his silent sisters and strangely passive mother, beginning to move outward--through his profound love and combat with his friend Guitar...through Guitar's mad and loving commitment to the secret avengers called the Seven Days...through Milkman's exotic, imprisoning affair with his love-blind cousin, Hagar...and through his unconscious apprenticeship to his mystical Aunt Pilate, who saved his life before he was born.

And we follow him as he strikes out alone; moving first toward adventure and then--as the unspoken truth about his family and his own buried heritage announces itself--toward an adventurous and crucial embrace of life.

This is a novel that expresses, with passion, tenderness, and a magnificence of language, the mysterious primal essence of family bond and conflict, the feelings and experience of all people wanting, and striving, to be alive.
Praise For Song of Solomon…
"A rich, full novel. . . . It lifts us up [and] impresses itself upon us like a love affair." —The New York Times Book Review

"Exuberant. . . . An artistic vision that encompasses both a private and national heritage."

"A rhapsodic work. . . . Intricate and inventive." —The New Yorker

"Stunningly beautiful. . . . Full of magnificent people. . . . They are still haunting my house. I suspect they will be with me forever." —Anne Tyler, The Washington Post

"If Ralph Ellison's Invisible Man went underground, Toni Morrison's Milkman flies." —John Leonard, The New York Times Book Review

"It places Toni Morrison in the front rank of contemporary American writers. She has written a novel that will endure." —The Washington Post

"Lovely. . . . A delight, full of lyrical variety and allusiveness. . . . [An] exceptionally diverse novel." —The Atlantic Monthly

"Morrison is a terrific storyteller. . . . Her writing evokes the joyful richness of life." —Newsday

"Morrison dazzles. . . . She creates a black community strangely unto itself yet never out of touch with the white world. . . . With an ear as sharp as glass she has listened to the music of black talk and uses it as a palette knife to create black lives and to provide some of the best fictional dialogue around today." —The Nation

"A marvelous novel, the most moving I have read in ten years of reviewing." —Cleveland Plain Dealer

"Toni Morrison has created a fanciful world here. . . . She has an impeccable sense of emotional detail. She's the most sensible lyrical writer around today." —The Philadelphia Inquirer

"A fine novel exuberantly constructed. . . . So rich in its use of common speech, so sophisticated in its use of literary traditions and language from the Bible to Faulkner . . . it is also extremely funny." —The Hudson Review

"Toni Morrison is an extraordinarily good writer. Two pages into anything she writes one feels the power of her language and the emotional authority behind that language. . . . One closes the book warmed through by the richness of its sympathy, and by its breathtaking feel for the nature of sexual sorrow." —The Village Voice

"Morrison moves easily in and out of the lives and thoughts of her characters, luxuriating in the diversity of circumstances and personality, and revelling in the sound of their voices and of her own, which echoes and elaborates theirs." —The New Yorker

Knopf, 9780394497846, 352pp.
Publication Date: August 12, 1977
or
Not Currently Available for Direct Purchase