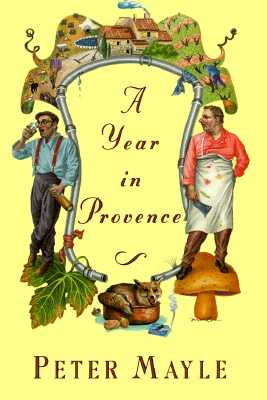 A Year in Provence (Hardcover)
Knopf Publishing Group, 9780394572307, 224pp.
Publication Date: April 28, 1990
Other Editions of This Title:
Paperback (6/4/1991)
Paperback (6/1/2000)
Paperback (5/1/2011)
Paperback, Chinese (10/8/2012)
* Individual store prices may vary.
Description
They had been there often as tourists. They had cherished the dream of someday living all year under the Provencal sun. And suddenly it happened.
Here is the month-by-month account of the charms and frustrations that Peter Mayle and his wife -- and their two large dogs -- experience their first year in the remote country of the Luberon restoring a two-centuries-old stone farmhouse that they bought on sight. From coping in January with the first mistral, which comes howling down from the Rhone Valley and wreaks havoc with the pipes, to dealing as the months go by with the disarming promises and procrastination of the local masons and plumbers, Peter Mayle delights us with his strategies for survival. He relishes the growing camaraderie with his country neighbors -- despite the rich, soupy, often impenetrable patois that threatens to separate them. He makes friends with boar hunters and truffle hunters, a man who eats foxes, and another who bites dentists; he discovers the secrets of handicapping racing goats and of disarming vipers. And he comes to dread the onslaught of tourists who disrupt his tranquillity.
In this often hilarious, seductive book Peter Mayle manages to transport us info all the earthy pleasures of Provencal life and lets us live vicariously in a tempo governed by seasons, not by days. George Lang, who was smitten, suggests: "Get a glass of marc, lean back in your most comfortable chair, and spend a delicious year in Provence.
About the Author
Peter Mayle spent fifteen years in the advertising business, first as a copywriter and then as a reluctant executive, before escaping Madison Avenue in 1975 to write books. His work has been translated into seventeen languages, and he has contributed to the London Sunday Times, the Financial Times, and the Independent, as well as Gentlemen's Quarterly and Esquire. A Year in Provence, which has just been published in England, won the British Book Awards "Best Travel Book of the Year." He and his wife live in Provence.
Praise For A Year in Provence…
"I really loved this book. Having spent several seasons in the backcountry of Provence myself, I found myself laughing in recognition of the Provencal explanation, for example, of an unusually cold winter: it was simply that the cold had all slipped down from Russia because the land had flattened between there and Provence. Then the raucous rebuilding of their house, and their plumbing, and the middle-aged plumber himself, who plays the clarinet at home, and will party of an evening, whirling his wife around the dance floor until six in the morning. The wonderful local meals Mayle describes, with pates and hams and mammoth stews, and olives, and sausages, and slabs of country bread to wipe up the sauce while cleaning the plates for the next course. It takes the friendly eye and ear of a sympathetic foreigner to penetrate and then bring alive the unique and endearing culture that is Provence. This book will give you many a chuckle when you know the country, and will certainly prepare you to enjoy it if you don't."
or
Not Currently Available for Direct Purchase