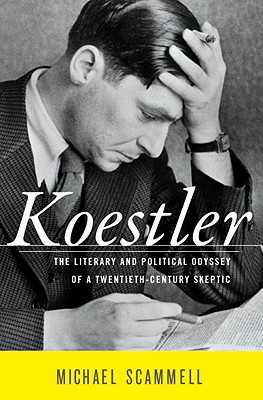 Koestler
The Literary and Political Odyssey of a Twentieth-Century Skeptic
Hardcover

* Individual store prices may vary.
Other Editions of This Title:
Paperback (2/1/2011)
Description
From award-winning author Michael Scammell comes a monumental achievement: the first authorized biography of Arthur Koestler, one of the most influential and controversial intellectuals of the twentieth century. Over a decade in the making, and based on new research and full access to its subject's papers, Koestler is the definitive account of this fascinating and polarizing figure. Though best known as the creator of the classic anti-Communist novel Darkness at Noon, Koestler is here revealed as much more–a man whose personal life was as astonishing as his literary accomplishments.

Koestler portrays the anguished youth of a boy raised in Budapest by a possessive and mercurial mother and an erratic father, marked for life by a forced operation performed without anesthesia when he was five, growing up feeling unloved and unprotected. Here is the young man whose experience of anti-Semitism and devotion to Zionism provoked him to move to Palestine; the foreign correspondent who risked his life from the North Pole to Franco's Spain, where he was imprisoned and sentenced to death; the committed Communist for whom the brutal truth of Stalin's show trials inspired the superb and angry novel that became an instant classic in 1940. Scammell also provides new details of Koestler's amazing World War II adventures, including his escape from occupied France by joining the Foreign Legion and his bluffing his way illegally to England, where his controversial novel Arrival and Departure, published in 1943, was the first to portray Hitler's Final Solution.


Without sentimentality, Scammell explores Koestler's turbulent private life: his drug use, his manic depression, the frenetic womanizing that doomed his three marriages and led to an accusation of rape that posthumously tainted his reputation, and his startling suicide while fatally ill in 1983–an act shared by his healthy third wife, Cynthia–rendered unforgettably as part of his dark and disturbing legacy.

Featuring cameos of famous friends and colleagues including Langston Hughes, George Orwell, and Albert Camus, Koestler gives a full account of the author's voluminous writings, making the case that the autobiographies and essays are fit to stand beside Darkness at Noon as works of lasting literary value. Koestler adds up to an indelible portrait of this brilliant, unpredictable, and talented writer, once memorably described as "one third blackguard, one third lunatic, and one third genius."
Praise For Koestler: The Literary and Political Odyssey of a Twentieth-Century Skeptic…
 

"Arthur Koestler exposed his mind and body to the fearful spectrum of twentieth-century ideology like a healthy man volunteering for a life of radiation therapy. He left behind his books, trays of x-rays in black and white, strangely beautiful and dreadfully revealing. Scammell's admirable biography gives full run to Koestler's body, mind, and work, and so helps us to see modern intellectual politics in its mesmerizing brilliance and depth."—Timothy Snyder, Professor of History, Yale

"There is virtually no current of twentieth-century achievement and conflict to which Arthur Koestler did not contribute in a creative and clairvoyant way. Darkness at Noon may have changed history. To Koestler's manifold passions and anguish this finely researched, incisive biography does justice—where justice is the key and challenging requirement. Michael Scammell has produced a compelling, intensely gripping study. Even the porcupine-tempered Koestler would have been proud."—George Steiner

"Elegant...A fine biography that leaves few leaves unturned, and that should revive interest in Koestler's work."—Kirkus, starred review

"Scammell has set the stage for the rediscovery of a great writer."—Booklist, starred review


"As Scammell's fantastic account makes clear, Koestler was hardly a skeptic. He was an impassioned believer who swerved this way and that—Zionism, communism, anticommunism, science, and-pseudoscience—searching for the absolute that would save him (and us all)"—Newsweek

"A prodigy of research in many languages, and a scrupulous piece of fairminded advocacy." —New Yorker

"Scammell's 'Koestler' is unlikely to be surpassed. This is Koestler in full—sins and virtues measured fairly and thoughtfully. Can a man with such flaws be a great man? As a friend noted: 'Koestler was the embodiment of an uncompromised, unafraid, international idealism.' There can be no greater compliment." —Wall Street Journal

"Judicious and insightful."—San Francisco Chronicle
Random House, 9780394576305, 720pp.
Publication Date: December 29, 2009
About the Author
Michael Scammell is the author of Solzhenitsyn, a Biography, ""which won the" Los Angeles Times "and English PEN's prizes for best biography after its publication. He is the editor of "The Solzhenitsyn Files," "Unofficial Art from the Soviet Union," and "Russia' s Other Writers, and "has translated Nabokov, Dostoyevsky, Tolstoy, and other Russian authors into English. His reviews and articles have appeared in "The New York Review of Books, The New York Times, The Los Angeles Times, The New Republic, Harpers, " and elsewhere. He teaches creative writing and translation in the School of the Arts at Columbia University in New York.

"

Michael Scammell has been shortlisted for the LA Times biography prize.

"
or
Not Currently Available for Direct Purchase