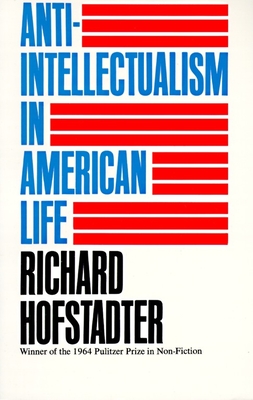 Anti-Intellectualism in American Life (Paperback)
Vintage, 9780394703176, 464pp.
Publication Date: February 12, 1966
Other Editions of This Title:
MP3 CD (4/18/2017)
Compact Disc (4/18/2017)
* Individual store prices may vary.
Description
Winner of the 1964 Pulitzer Prize in Nonfiction

Anti-Intellectualism in American Life is a book which throws light on many features of the American character. Its concern is not merely to portray the scorners of intellect in American life, but to say something about what the intellectual is, and can be, as a force in a democratic society.

"As Mr. Hofstadter unfolds the fascinating story, it is no crude battle of eggheads and fatheads. It is a rich, complex, shifting picture of the life of the mind in a society dominated by the ideal of practical success." —Robert Peel in the Christian Science Monitor 
About the Author
Born in 1916, Richard Hofstadter was one of the leading American historians and public intellectuals of the 20th century. His works include The Age of Reform, Anti-intellectualism in American Life, Social Darwinism in American Thought, 1860-1915, The American Political Tradition, and others. He was the DeWitt Clinton Professor of American History at Columbia University. He died in 1970.
Praise For Anti-Intellectualism in American Life…
"As Mr. Hofstadter unfolds the fascinating story, it is no crude battle of eggheads and fatheads. It is a rich, complex, shifting picture of the life of the mind in a society dominated by the ideal of practical success." --Robert Peel, Christian Science Monitor 

"The most comprehensive, succinct, and well-written one-volume treatment of the subject now available."--Walter Laqueur