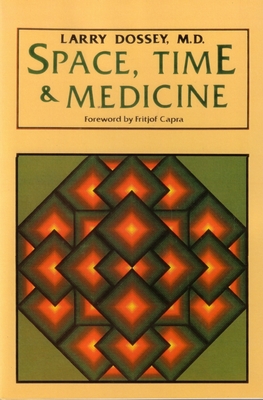 Space, Time & Medicine (Paperback)
Shambhala, 9780394710914
Publication Date: April 12, 1982
Other Editions of This Title:
Hardcover (4/12/1982)
* Individual store prices may vary.
Description
What we call modern physics says something entirely new about the world and how it behaves. For many years, these theories have been accepted as the most accurate descriptions we have ever had about our world. Nevertheless, medicine has been reluctant to incorporate these ideas into itself, continuing to view the body as a clockwork mechanism, in which illness is caused by a breakdown of "parts."

Drawing on his long experience in the practice of internal medicine and his knowledge of modern science, Dr. Dossey shows how medicine can and must be updated. Discussing the new theories of Bell, Godel, and others, he opens up startling questions for medicine: Could the brain be a hologram, in which every part contains the whole? Why have ordinary people been able to raise and lower blood pressure at will, control heart rate, body temperature, even one minute blood vessel, in a way no one can explain? What is the role of consciousness in health and illness?

Perhaps the most startling of Dr. Dossey's discussions concerns nonlinear time. There is evidence that our obsession with time and our belief that time "flows" (a belief refuted by the new physics) may profoundly affect our health. "Time sickness" is becoming an accepted medical concept, a possible cause of the greatest killer of all—heart disease. Dr. Dossey presents remarkable clinical data showing that by changing their view of time, people have been able to positively affect the course of disease.

Just as the clockwork picture of the universe was abandoned in the onslaught of new data, our mechanistic view of health and illness will give way to new models which, too, will be more consistent with the true face of the universe.
About the Author
Larry Dossey, M.D., is a physician of internal medicine. He was a battalion surgeon in Vietnam, chief of staff at Medical City Dallas Hospital, and a member of Hillary Rodham Clinton's Task Force on Health Care Reform. He has lectured all over the world, including at the Mayo Clinic, Harvard, Johns Hopkins, Cornell, and numerous other major universities and medical schools. His eight other books include Space, Time, and Medicine; Healing Words; and Prayer Is Good Medicine.