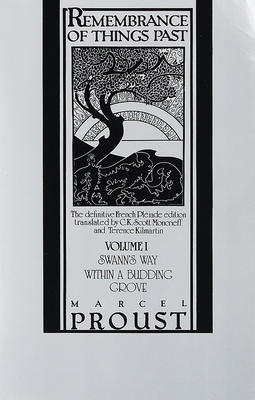 Remembrance of Things Past, Volume I (Paperback)
Swann's Way & Within a Budding Grove
Vintage, 9780394711829, 1056pp.
Publication Date: August 12, 1982
Other Editions of This Title:
Paperback (6/29/2014)
Paperback (8/12/1982)
Paperback (8/27/1982)
Hardcover (12/1/2007)
Hardcover (1/1/2003)
Paperback (8/9/2018)
Paperback (8/9/2018)
Hardcover (6/1/2002)
Paperback (7/1/2008)
* Individual store prices may vary.
Description
Here are the first two volumes of Proust's monumental achievement, Swann's Way and Within a Budding Grove. The famous overture to Swann's Way sets down the grand themes that govern In Search of Lost Time: as the narrator recalls his childhood in Paris and Combray, exquisite memories, long since passed—his mother's good-night kiss, the water lilies on the Vivonne, his love for Swann's daughter Gilberte—spring vividly into being. In Within a Budding Grove—which won the Prix Goncourt in 1919, bringing the author instant fame—the narrator turns from his childhood recollections and begins to explore the memories of his adolescence. As his affections for Gilberte grow dim, the narrator discovers a new object of attention in the bright-eyed Albertine. Their encounters unfold by the shores of Balbec. One of the great works of Western literature, now in the new definitive French Pleiade edition translated by C.K. Scott Moncrieff and Terence Kilmartin.
About the Author
Marcel Proust was born in 1871 in Auteuil, near Paris, France. His seven-volume novel, À la recherche du temps perdu (known in English as In Search of Lost Time), which explores themes of memory, became one of the most famous and influential works of twentieth-century literature. Proust continued to work on the novel until his death in 1922.