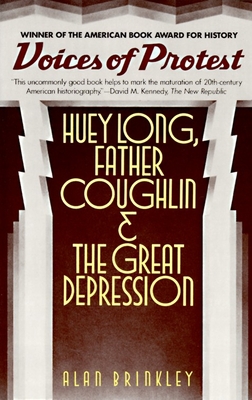 Voices of Protest (Paperback)
Huey Long, Father Coughlin, & the Great Depression
Vintage, 9780394716282, 384pp.
Publication Date: August 12, 1983
* Individual store prices may vary.
Description
The study of two great demagogues in American history--Huey P. Long, a first-term United States Senator from the red-clay, piney-woods country of nothern Louisiana; and Charles E. Coughlin, a Catholic priest from an industrial suburb near Detroit. Award-winning historian Alan Brinkely describes their modest origins and their parallel rise together in the early years of the Great Depression to become the two most successful leaders of national political dissidence of their era. 

*Winner of the American Book Award for History*
About the Author
Alan Brinkley is the Allan Nevins Professor of American History at Columbia University. His previous books include Voices of Protest: Huey Long, Father Coughlin, and the Great Depression, which won the National Book Award for History, and The Unfinished Nation: A Concise History of the American People. His essays, articles, and reviews have appeared in The American Historical Review, the Journal of American History, The New York Times Book Review, The New York Review of Books, The Times Literary Supplement, The New Republic, and other publications. He lives in New York City.
Praise For Voices of Protest: Huey Long, Father Coughlin, & the Great Depression…
"This uncommonly good book helps to mark the maturation of the 20th-century American historiography."--David M Kennedy, The New Republic

"History explicated by a master of the art... impressively well written in addition to being topical." --The Chicago Tribune Book World

"It is not often that we get a book as good as this one about demagogic figures like Huey Long and Father Coughlin....A sensititve and subtle work moderated by grace and restraint....Brinkley's findings add to our knowledge of the leaders themselves, but more significantly to the nature of their appeal, their methods...and their relations with President Roosevelt....It would be well for American historiography should shis book mark a turn in predominant fashions." --The New York Review of Books