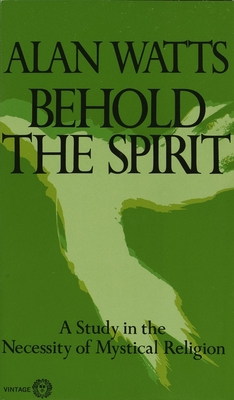 Behold the Spirit: A Study in the Necessity of Mystical Religion (Paperback)
A Study in the Necessity of Mystical Religion
Vintage, 9780394717616, 288pp.
Publication Date: February 12, 1972
* Individual store prices may vary.
or
Not Currently Available for Direct Purchase
Description
Just as groundbreaking today as it was when it first appeared, Behold the Spirit is philosopher Alan Watts's timeless argument for the place of mystical religion in today's world. Drawing on his experiences as a former priest, Watts skillfully explains how the intuition of Eastern religion Zen Buddhism, in particular can be incorporated into the doctrines of Western Christianity, allowing people of all creeds to enjoy a deeper, more meaningful relationship with the spiritual in our present troubled times.
About the Author
Alan W. Watts, who held both a master s degree in theology and a doctorate of divinity, is best remembered as an interpreter of Zen Buddhism in particular, and of Indian and Chinese philosophy in general. Standing apart, however, from sectarian membership, he has earned the reputation of being one of the most original and unrutted philosophers of the twentieth century. Watts was the author of some twenty books on the philosophy and psychology of religion that have been published in many languages throughout the world, including the bestsellingThe Way of Zen.An avid lecturer, Watts appeared regularly on the radio and hosted the popular television series, Eastern Wisdom and Modern Life, in the 1960s. Hedied in 1973."
Praise For Behold the Spirit: A Study in the Necessity of Mystical Religion…
Comments Upon Original Publication Of

Behold The Spirit

"I regard [the] book as one of the best -- in fact the only first-rate -- book in recent years in the field of religion. It gets to the fundamental problem, it honestly sees the weaknesses of contemporary Protestantism, and it attempts to diagnose and cure the evil in the only way a cure can be effected, namely by a doctrine with content at the basic metaphysical level.

"It also goes further than this, recognizing contributions from Oriental religion which simply are not present in contemporary Western religion. More than this it shows how the traditional Western doctrine of the Incarnation and the Atonement can be reconciled with and combined with the intuitive religion of the Orient, such as that of Zen Buddhism. These are exceedingly important and outstanding achievements."

F.S.C. Northrop

"Behold the Spirit will, I think, prove to be one of the half-dozen most significant books on religion published in the twentieth century." Canon Iddings Bell
Advertisement