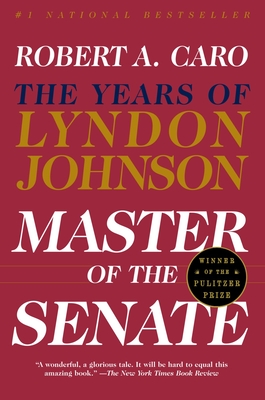 Master of the Senate
The Years of Lyndon Johnson III
Paperback

* Individual store prices may vary.
Other Editions of This Title:
Digital Audiobook (4/11/2002)
Digital Audiobook (4/11/2002)
Digital Audiobook (3/28/2002)
Digital Audiobook (11/27/2006)
Digital Audiobook (4/22/2002)
Hardcover (4/23/2002)
Description
Master of the Senate, Book Three of The Years of Lyndon Johnson, carries Johnson's story through one of its most remarkable periods: his twelve years, from 1949 to 1960, in the United States Senate. At the heart of the book is its unprecedented revelation of how legislative power works in America, how the Senate works, and how Johnson, in his ascent to the presidency, mastered the Senate as no political leader before him had ever done.
 
It was during these years that all Johnson's experience—from his Texas Hill Country boyhood to his passionate representation in Congress of his hardscrabble constituents to his tireless construction of a political machine—came to fruition. Caro introduces the story with a dramatic account of the Senate itself: how Daniel Webster, Henry Clay, and John C. Calhoun had made it the center of governmental energy, the forum in which the great issues of the country were thrashed out. And how, by the time Johnson arrived, it had dwindled into a body that merely responded to executive initiatives, all but impervious to the forces of change. Caro anatomizes the genius for political strategy and tactics by which, in an institution that had made the seniority system all-powerful for a century and more, Johnson became Majority Leader after only a single term-the youngest and greatest Senate Leader in our history; how he manipulated the Senate's hallowed rules and customs and the weaknesses and strengths of his colleagues to change the "unchangeable" Senate from a loose confederation of sovereign senators to a whirring legislative machine under his own iron-fisted control.
 
Caro demonstrates how Johnson's political genius enabled him to reconcile the unreconcilable: to retain the support of the southerners who controlled the Senate while earning the trust—or at least the cooperation—of the liberals, led by Paul Douglas and Hubert Humphrey, without whom he could not achieve his goal of winning the presidency. He shows the dark side of Johnson's ambition: how he proved his loyalty to the great oil barons who had financed his rise to power by ruthlessly destroying the career of the New Dealer who was in charge of regulating them, Federal Power Commission Chairman Leland Olds. And we watch him achieve the impossible: convincing southerners that although he was firmly in their camp as the anointed successor to their leader, Richard Russell, it was essential that they allow him to make some progress toward civil rights. In a breathtaking tour de force, Caro details Johnson's amazing triumph in maneuvering to passage the first civil rights legislation since 1875.
 
Master of the Senate, told with an abundance of rich detail that could only have come from Caro's peerless research, is both a galvanizing portrait of the man himself—the titan of Capital Hill, volcanic, mesmerizing—and a definitive and revelatory study of the workings and personal and legislative power.
Praise For Master of the Senate: The Years of Lyndon Johnson III…
"A wonderful, a glorious tale. . . . It will be hard to equal this amazing book. It reads like a Trollope novel, but not even Trollope explored the ambitions and the gullibilities of men as deliciously as Robert Caro does. Even though I knew what the outcome of a particular episode would be, I followed Caro's account of it with excitement. I went back over chapters to make sure I had not missed a word . . . Caro's description of how [Johnson passed the civil rights legislation] is masterly; I was there and followed the course of the legislation closely, but I did not know the half of it."
—Anthony Lewis, The New York Times Book Review
 
"A masterpiece . . . Robert Caro has written one of the truly great political biographies of the modern age."
—Daniel Finkelstein, The Times (London)

"Mesmerizing. . . . [It] brings LBJ blazing into the Senate. . . . A tale rife with drama and hypnotic in the telling. The historian's equivalent of a Mahler symphony."
—Malcolm Jones, Newsweek
 
"Caro's immersion in the man and period yields a fascinating, entertaining abundance . . . Master of the Senate splendidly reassembles the U.S. Senate of those years."
—Time
 
"Brilliant . . . Caro achieves a special tension, too rare in history books but essential in epic poetry: the drama of a hero who is wrestling with his enemies, his limitations and his fate to achieve something truly lasting . . . In his hands, the obscure fight over legislation becomes nothing less than a battle for the soul of America . . . It's a terribly important work, unblinkingly delineating the inner workings of our democracy."
—Chicago Tribune
 
"An epic tale of winning and wielding power."
—Dan DeLuca, Philadelphia Inquirer
 
"Caro must be America's greatest living Presidential biographer . . . He entrances us with both his words and his research . . . No other contemporary biographer offers such a complex picture of the forces driving an American politician, or populates his work with such vividly drawn secondary characters. Extraordinary."
—Richard S. Dunham, BusinessWeek
 
"The most complete portrait of the Senate ever drawn."
—Michael Wolff, New York
 
"A terrific study of power politics."
—Steve Neal, Chicago Sun-Times

"In this fascinating book, Robert Caro does more than carry forward his epic life of Lyndon Johnson. With compelling narrative power and with remarkable subtlety and sensitivity, he illuminates the Senate of the United States and its byzantine power struggles. In this historical tour-de-force, Robert Caro shows himself the true 'master of the Senate.'"
—Arthur Schlesinger, Jr
 
"Master of the Senate and its two preceding volumes are the highest expression of biography as art. After The Path to Power and Means of Ascent, there shouldn't be much debate about Caro's grand achievement, but let's be clear about this nonetheless: In terms of political biography, not only does it not get better than this, it can't."
—Patrick Beach, Austin American-Statesman
 
"These [legislative battles] are great stories, the stuff of the legends of democracy—rich in character, plot, suspense, nuttiness, human frailty, maddening stupidity. These should be the American sagas; these should be our epics. Bob Caro has given us a beauty, and I think we owe him great thanks."
—Molly Ivins, New York Observer
 
"Indefatigably researched and brilliantly written . . . Powerful . . . One of Caro's most valuable contributions is his excavation of the lost art of legislating . . . Rich and rewarding."
—Ronald Brownstein, Times Literary Supplement
 
"Epic . . . It is impossible to imagine that a political science class on the U.S. Congress can be taught today that does not reference this book. It is a florid and graphic account of how Congress works, an authoritative work on the history of the Senate and a virtual cookbook of recipes for legislative success for the nascent politician."
—Robert F. Julian, New York Law Journal

"A panoramic study of how power plays out in the legislative arena. Combining the best techniques of investigative reporting with majestic storytelling ability, Caro has created a vivid, revelatory institutional history as well as a rich hologram of Johnson's character . . . He seems to have perfectly captured and understood Johnson's capacity for greatness."
—Jill Abramson, New York Times
 
"Master of the Senate forces us not only to rewrite our national political history but to rethink it as well . . . Caro's been burrowing beneath the shadows of the substance of our politics for more than twenty-eight years, and what he finds is both fascinating and surprising . . . Compulsively readable."
—Eric Alterman, The Nation

"A spectacular piece of historical biography, delicious reading for both political junkies and serious students of the political process . . . Fascinating."
—Robert D. Novak, The Weekly Standard
 
"Vintage Caro—a portrait so deft, vivid, and compelling that you practically feel LBJ gripping your arm and bending you to his will."
—Jean Strouse
 
"Caro is a master of biography . . . With his Tolstoyian touch for storytelling and drama, Caro gives us a fascinating ride through the corridors of Senate sovereignty . . . Of all the many Johnson biographies, none approaches Caro's work in painstaking thoroughness, meticulous detail and the capture of character . . . A dazzling tour de force that certifies Caro as the country's preeminent specialist in examining political power and its uses."
—Paul Duke, Baltimore Sun
 
"Masterful . . . A work of genius."
—Steve Weinberg, New Orleans Times-Picayune
 
"Caro writes history with [a] novelist's sensitivity . . . No historian offers a more vivid sense not only of what happened, but what it looked like and felt like."
—Bob Minzesheimer, USA Today
 
"The richly cadenced prose is hypnotic, the research prodigious, the analysis acute, the mood spellbinding, and the cast of characters mythic in scale. I cannot conceive of a better book about Capitol Hill. An unforgettable, epic achievement in the art of biography."
—Ron Chernow
 
"Destined to rank among the great political profiles of our time. Master of the Senate succeeds only in part because Johnson is such a fascinating figure. The other half of the equation is Caro."
—Steve Kraske, Kansas City Star

"It is, quite simply, the finest biography I have ever read. It is more than that: it is one of the finest works of literature I have encountered."
—Stephen Pollard, The New Statesman

"Caro is a gifted and passionate writer, and his all-encompassing approach to understanding LBJ provides readers with a panoramic history of twentieth-century American politics as well as a compelling discourse on the nature and uses of political power . . . One of the best analyses of the legislative process ever written."
—Philip A. Klinkner, The Nation
Vintage, 9780394720951, 1232pp.
Publication Date: April 25, 2003
About the Author
For his biographies of Robert Moses and Lyndon Johnson, Robert A. Caro has twice won the Pulitzer Prize for Biography, has three times won the National Book Critics Circle Award, and has also won virtually every other major literary honor, including the National Book Award, the Gold Medal in Biography from the American Academy of Arts and Letters, and the Francis Parkman Prize, awarded by the Society of American Historians to the book that best "exemplifies the union of the historian and the artist." In 2010 President Barack Obama awarded Caro the National Humanities Medal, stating at the time: "I think about Robert Caro and reading The Power Broker back when I was twenty-two years old and just being mesmerized, and I'm sure it helped to shape how I think about politics." In 2016 he received the National Book Award for Lifetime Achievement. The London Sunday Times has said that Caro is "The greatest political biographer of our times."  
 
Caro's first book, The Power Broker: Robert Moses and the Fall of New York, everywhere acclaimed as a modern classic, was chosen by the Modern Library as one of the hundred greatest nonfiction books of the twentieth century. It is, according to David Halberstam, "Surely the greatest book ever written about a city." And The New York Times Book Review said: "In the future, the scholar who writes the history of American cities in the twentieth century will doubtless begin with this extraordinary effort." 

The first volume of The Years of Lyndon Johnson, The Path to Power, was cited by The Washington Post as "proof that we live in a great age of biography . . . [a book] of radiant excellence . . . Caro's evocation of the Texas Hill Country, his elaboration of Johnson's unsleeping ambition, his understanding of how politics actually work, are—let it be said flat out—at the summit of American historical writing." Professor Henry F. Graff of Columbia University called the second volume, Means of Ascent, "brilliant. No review does justice to the drama of the story Caro is telling, which is nothing less than how present-day politics was born." The London Times hailed volume three, Master of the Senate, as "a masterpiece . . . Robert Caro has written one of the truly great political biographies of the modern age." The Passage of Power, volume four, has been called "Shakespearean . . . A breathtakingly dramatic story [told] with consummate artistry and ardor" (The New York Times) and "as absorbing as a political thriller . . . By writing the best presidential biography the country has ever seen, Caro has forever changed the way we think about, and read, American history" (NPR). On the cover of The New York Times Book Review, President Bill Clinton praised it as "Brilliant . . . Important . . . Remarkable. With this fascinating and meticulous account Robert Caro has once again done America a great service." 
 
"Caro has a unique place among American political biographers," The Boston Globe said . . . "He has become, in many ways, the standard by which his fellows are measured." And Nicholas von Hoffman wrote: "Caro has changed the art of political biography."

Born and raised in New York City, Caro graduated from Princeton University, was later a Nieman Fellow at Harvard University, and worked for six years as an investigative reporter for Newsday. He lives in New York City with his wife, Ina, the historian and writer.