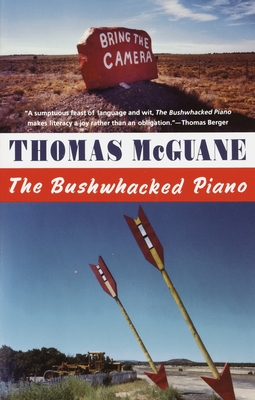 The Bushwhacked Piano (Paperback)
Vintage Contemporaries, 9780394726427, 220pp.
Publication Date: September 12, 1984
Description
A heroic young man is in pursuit of a spoiled rich girl, a career, and a manageable portion of the American Dream.
About the Author
Thomas McGuane lives in McLeod, Montana. He is a member of the American Academy of Arts and Letters and the author of ten novels, three works of nonfiction, and three collections of stories.
Praise For The Bushwhacked Piano…
As a citizen, Nicholas Payne is not in the least solid. As a boyfriend, he is nothing short of disastrous, and his latest flame, the patrician Ann Fitzgerald, has done a wise thing by dropping him. But Ann isn't counting on Nicholas's wild persistence, or on the slapstick lyricism of Thomas McGuane, who in The Bushwhacked Piano sends his hero from Michigan to Montana on a demented mission of courtship whose highlights include a ride on a homicidal bronco and apprenticeship to the inventor of the world's first highrise for bats. The result is a tour de force of American Dubious.

"The work of a writer of the first magnitude. His sheer writing skill is nothing short of amazing. The preternatural force, grace, and self-control of his prose recall Faulkner.... McGuane is a virtuoso." -- Jonathan Yardley, The New York Times Book Review

"McGuane shares with Celine a genius for seeing the profuse, disparate materials of everyday life as a highly organized nightmare."

-- The New Yorker

"A novel of wisecracks and puns and ordinary objects invested with legendary potency."

-- Geoffrey Wolff, Newsweek
Advertisement