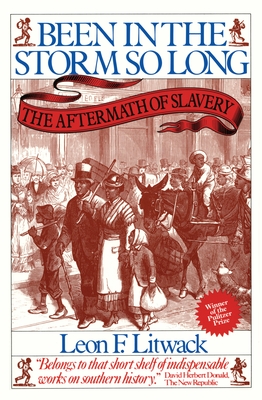 Been in the Storm So Long (Paperback)
The Aftermath of Slavery
Vintage, 9780394743981, 672pp.
Publication Date: August 12, 1980
* Individual store prices may vary.
Description
Winner of the Pulitzer Prize and the National Book Award
Based on hitherto unexamined sources: interviews with ex-slaves, diaries and accounts by former slaveholders, this "rich and admirably written book" (Eugene Genovese, The New York Times Book Review) aims to show how, during the Civil War and after Emancipation, blacks and whites interacted in ways that dramatized not only their mutual dependency, but the ambiguities and tensions that had always been latent in "the peculiar institution."

Contents
1. "The Faithful Slave"
2. Black Liberators
3. Kingdom Comin'
4. Slaves No More
5. How Free is Free?
6. The Feel of Freedom: Moving About
7. Back to Work: The Old Compulsions
8. Back to Work: The New Dependency
9. The Gospel and the Primer
10. Becoming a People
About the Author
Leon F. Litwack, PhD is the Pulitzer Prize-winning author of Trouble in Mind: Black Southerners in the Age of Jim Crow, Been in the Storm So Long: The Aftermath of Slavery, and North of Slavery: The Negro in the Free States, 1790-1860. He is the recipient of the Parkman Prize, a Guggenheim Fellowship, two Distinguished Teaching Awards, and a National Endowment for the Humanities Film Grant, and is the Alexander F. and May T. Morrison Professor of American History Emeritus at the University of California, Berkeley.
Praise For Been in the Storm So Long: The Aftermath of Slavery…
"Litwack displays a keen sense of the revealing expression and incident; a controlled passion against injustice and cruelty; and a grasp--not always in evidence these days--of the elements of genuine tragedy in the black-white confrontation that has shaped southern history."--Eugene Genovese, The New York Times Book Review

"As a comprehensive study of the coming of freedom, Litwack's book has no rival."--C. Vann Woodward, The New York Review of Books