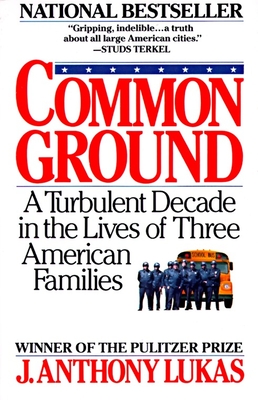 Common Ground (Paperback)
A Turbulent Decade in the Lives of Three American Families
Vintage, 9780394746166, 688pp.
Publication Date: August 12, 1986
* Individual store prices may vary.
Description
Winner of the Pulitzer Prize, the National Book Critics Circle Award, the Robert F. Kennedy Book Award, and the American Book Award, the bestselling Common Ground is much more than the story of the busing crisis in Boston as told through the experiences of three families. As Studs Terkel remarked, it's "gripping, indelible...a truth about all large American cities."

"An epic of American city life...a story of such hypnotic specificity that we re-experience all the shades of hope and anger, pity and fear that living anywhere in late 20th-century America has inevitably provoked." —Christopher Lehmann-Haupt, The New York Times
About the Author
J. Anthony Lucas was born in New York City and graduated from Harvard College. After four years on the Baltimore Sun, he joined The New York Times, serving as a correspondent at the United Nations, in Washington, in Africa, India, Korea, Japan, and Australia, as Roving National Correspondent, and as a staff writer for The New York Times Magazine. In 1972, he left the paper to freelance and to write books. Mr Lukas has received the Pulitzer Prize twice: for Special Local Reporting in 1968 and forCommon Ground in 1986. He has also won the American Book Award, the National Book Critics Circle Award, the Robert F. Kennedy Book Award, the George Polk Memorial Award, the Mike Berger Award, and the Page One Award. He has been a Nieman, Kennedy, and Guggenheim Fellow and has taught at Harvard, Yale, and Boston University. His previous books include The Barnyard Epithet and Other Obscenities: Notes on the Chicago Conspiracy Trial; Don't Shoot—We Are Your Children!; andNightmare: the Underside of the Nixon Years.
Praise For Common Ground: A Turbulent Decade in the Lives of Three American Families…
"A huge and marvelous work." —Kai Erikson, front page, The New York Times Book Review

"A book of such force and clarity that its just praise would require language long rendered empty by jacket blurbs. To say that Common Ground is about busing in Boston is a bit like saying that Moby-Dick is about whaling in New Bedford." —Robert B. Parker, Chicago Tribune

"An American classic, a book that will find a place not merely in the shelves where our national history is recorded but also in those where our literature is kept." —Jonathan Yardley, Washington Post

"A big book—monumental in scope, rich in historical detail, challenging in its conclusions and compassionate in its portraiture of the three families: the black Twymons, the Irish McGoffs, and the Yankee Divers." —Fox Butterfield, The New Republic