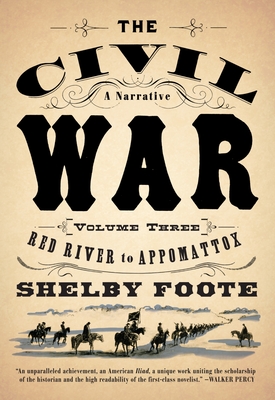 The Civil War (Paperback)
A Narrative: Volume 3: Red River to Appomattox (Vintage Civil War Library)
Vintage, 9780394746227, 1120pp.
Publication Date: November 12, 1986
Other Editions of This Title:
Compact Disc (11/1/2009)
* Individual store prices may vary.
Description
This final volume of Shelby Foote's masterful narrative history of the Civil War brings to life the military endgame, the surrender at Appomattox, and the tragic dénouement of the war—the assassination of President Lincoln.
 
Features maps throughout.
 
"An unparalleled achievement, an American Iliad, a unique work uniting the scholarship of the historian and the high readability of the first-class novelist." —Walker Percy
 
"To read this chronicle is an awesome and moving experience. History and literature are rarely so thoroughly combined as here; one finishes this volume convinced that no one need undertake this particular enterprise again." —Newsweek
 
"In objectivity, in range, in mastery of detail, in beauty of language and feeling for the people involved, this work surpasses anything else on the subject. . . . Written in the tradition of the great historian-artists—Gibbon, Prescott, Napier, Freeman—it stands alongside the work of the best of them." —The New Republic
 
"The most written-about war in history has, with this completion of Shelby Foote's trilogy, been given the epic treatment it deserves." —Providence Journal


About the Author
Shelby Foote was an American historian and novelist.  He was born on November 7, 1916 in Greenville, Mississippi, and attended school there until he entered the University of North Carolina. During World War II he served as a captain of field artillery but never saw combat. After World War II he worked briefly for the Associated Press in their New York bureau. In 1953 he moved to Memphis, where he lived for the remainder of his life.

Foote was the author of six novels: Tournament, Follow Me Down, Love in a Dry Season, Shiloh, Jordan County, and September, September. He is best remembered for his 3-volume history The Civil War: A Narrative, which took twenty years to complete and resulted in his being a featured expert in Ken Burns' acclaimed PBS documentary, "The Civil War". Over the course of his writing career, Foote was also awarded three Guggenheim fellowships.

Shelby Foote died in 2005 at the age of 88.
Praise For The Civil War: A Narrative: Volume 3: Red River to Appomattox (Vintage Civil War Library)…
"An unparalleled achievement, an American Iliad, a unique work uniting the scholarship of the historian and the high readability of the first-class novelist." —Walker Percy

"I have never read a better, more vivid, more understandable account of the savage battling between Grant's and Lee's armies.... Foote stays with the human strife and suffering, and unlike most Southern commentators, he does not take sides. In objectivity, in range, in mastery of detail in beauty of language and feeling for the people involved, this work surpasses anything else on the subject.... It stands alongside the work of the best of them." —New Republic

"Foote is a novelist who temporarily abandoned fiction to apply the novelist's shaping hand to history: his model is not Thucydides but The Iliad, and his story, innocent of notes and formal bibliography, has a literary design. Not by accident...but for cathartic effect is so much space given to the war's unwinding, it's final shudders and convulsions.... To read this chronicle is an awesome and moving experience. History and literature are rarely so thoroughly combined as here; one finishes this volume convinced that no one need undertake this particular enterprise again." —Newsweek

"The most written-about war in history has, with this completion of Shelby Foote's trilogy, been given the epic treatment it deserves." —Providence Journal