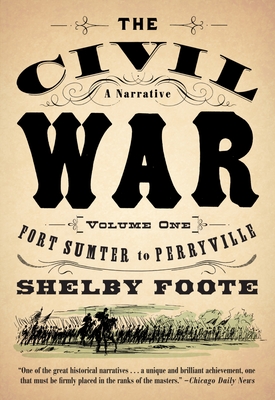 The Civil War: A Narrative: Volume 1: Fort Sumter to Perryville (Paperback)
A Narrative: Volume 1: Fort Sumter to Perryville
Vintage, 9780394746234, 856pp.
Publication Date: November 12, 1986
Description
"Here, for a certainty, is one of the great historical narratives of our century, a unique and brilliant achievement, one that must be firmly placed in the ranks of the masters."--Van Allen Bradley, Chicago Daily News

"A stunning book full of color, life, character and a new atmosphere of the Civil War, and at the same time a narrative of unflagging power. Eloquent proof that an historian should be a writer above all else." —Burke Davis

"This is historical writing at its best.... It can hardly be surpassed." —Library Journal

"Anyone who wants to relive the Civil War, as thousands of Americans apparently do, will go through this volume with pleasure.... Years from now, Foote's monumental narrative most likely will continue to be read and remembered as a classic of its kind." —New York Herald Tribune Book Review

"To read this great narrative is to love the nation—to love it through the living knowledge of its mortal division. Whitman, who ultimately knew and loved the bravery and frailty of the soldiers, observed that the real Civil War would never be written and perhaps should not be. For me, Shelby Foote has written it.... This work was done to last forever." —James M. Cox, Southern Review
About the Author
Shelby Foote was an American historian and novelist. He was born on November 7, 1916 in Greenville, Mississippi, and attended school there until he entered the University of North Carolina. During World War II he served as a captain of field artillery but never saw combat. After World War II he worked briefly for the Associated Press in their New York bureau. In 1953 he moved to Memphis, where he lived for the remainder of his life.Foote was the author of six novels: Tournament, Follow Me Down, Love in a Dry Season, Shiloh, Jordan County, and September, September. He is best remembered for his 3-volume history The Civil War: A Narrative, which took twenty years to complete and resulted in his being a featured expert in Ken Burns' acclaimed PBS documentary, "The Civil War." Over the course of his writing career, Foote was also awarded three Guggenheim fellowships.Shelby Foote died in 2005 at the age of 88."
Advertisement