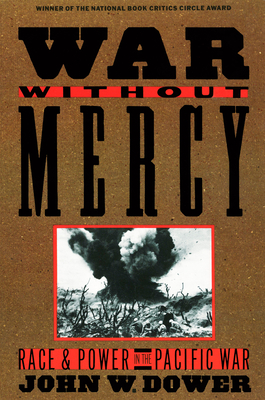 War without Mercy (Paperback)
Race and Power in the Pacific War
Pantheon, 9780394751726, 416pp.
Publication Date: February 12, 1987
* Individual store prices may vary.
Description
WINNER OF THE NATIONAL BOOK CRITICS CIRCLE AWARD
 
AN AMERICAN BOOK AWARD FINALIST
 
Now in paperback, War Without Mercy has been hailed by The New York Times as "one of the most original and important books to be written about the war between Japan and the United States." In this monumental history, Professor John Dower reveals a hidden, explosive dimension of the Pacific War—race—while writing what John Toland has called "a landmark book . . . a powerful, moving, and evenhanded history that is sorely needed in both America and Japan."
 
Drawing on American and Japanese songs, slogans, cartoons, propaganda films, secret reports, and a wealth of other documents of the time, Dower opens up a whole new way of looking at that bitter struggle of four and a half decades ago and its ramifications in our lives today. As Edwin O. Reischauer, former ambassador to Japan, has pointed out, this book offers "a lesson that the postwar generations need most . . . with eloquence, crushing detail, and power."
About the Author
JOHN W. DOWER, born in 1938, is the Henry Luce Professor of International Cooperation and Global Stability at the Massachusetts Institute of Technology. He is the author of Empire and Aftermath: Yoshida Shigeru and the Japanese Experience, 1878–1954 and The Elements of Japanese Design, and is the editor of The Origins of the Japanese State: Selected Writings of E. H. Norman and coeditor of The Hiroshima Murals: The Art of Iri Maruki and Toshi Maruki.
Praise For War without Mercy: Race and Power in the Pacific War…
War Without Mercy has been widely praised in the press:
 
"May well be the most important study of the Pacific War ever published."
—The New Republic
 
"One of the handful of truly important books on the Pacific War . . . a cautionary tale for all peoples, now and in the future."
—Foreign Affairs
 
"An exceptionally important book."
—Newsweek
 
"Belongs in every general library . . . should be required reading for anyone interested in understanding the trade wars that have mercifully replaced the killing fields in the Pacific."
—The Boston Globe