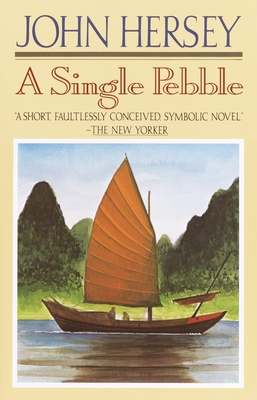 A Single Pebble (Paperback)
Vintage, 9780394756974, 192pp.
Publication Date: February 11, 1989
* Individual store prices may vary.
Description
A young American engineer sent to China to inspect the unruly Yangtze River travels up through the river's gorges searching for dam sites. Pulled on a junk hauled by forty-odd trackers, he is carried, too, into the settled, ancient way of life of the people of the Yangtze -- until the interplay of his life with theirs comes to a dramatic climax.
About the Author
John Hersey was born in Tientsin, China, in 1914 and lived there until 1925, when his family returned to the United States. He studied at Yale and Cambridge, served for a time as Sinclair Lewis's secretary, and then worked several years as a journalist. Beginning in 1947, he devoted his time mainly to writing fiction. He won the Pulitzer Prize, taught for two decades at Yale, and was president of the Authors League of America and chancellor of the American Academy of Arts and Letters. John Hersey died in 1993.
Praise For A Single Pebble…
"In a deceptively simple story, Hersey has captured all the magic, the terror and the drama of that extraordinary stretch of water....Even in Mr. Hersey's hands, the American's discoveries of his own mind and of the Chinese people are dwarfed by the laws, the demands and the ageless vitality of the Yangtze."

-- The New York Times Book Review

"A rewarding novel; it is clearly thought and beautifully projected on the screen of the imagination." -- Atlantic