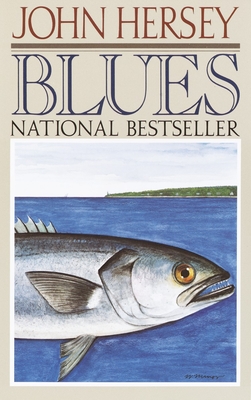 Blues (Paperback)
Vintage, 9780394757025, 228pp.
Publication Date: February 12, 1988
Description
From the revered Pulitzer Prize winning journalist and writer, comes his National Bestseller on one of the world's oldest and most popular activities, fishing. Presented in narrative form as a conversation between a Fisherman and the Stranger, Hersey draws upon his own experiences and passion as the fisherman reflects on the age old sport, offering his own insights and thoughts. From the depths of the ocean to the creatures near the shore, Hersey perfectly answers why fishing has been such an integral part of humanity. "Almost no one has answered "why fish?" better than Mr. Hersey . . . what he does best of all is evoke wonder."--New York Times Book Review "Blues is, of course, about much more than the pleasures and techniqu3es of fishing; it is, as Fisherman tells Stranger, about interconnections--the ties between mankind and the natural world, among others."--The New Yorker "Wonderful . . . He gives us a rich and vivid sense of ocean life. . . . The whole thing is as stately as a minuet, and as graceful."--Chicago Sun-Times
About the Author
John Hersey was born in Tientsin, China, in 1914 and lived there until 1925, when his family returned to the United States. He studied at Yale and Cambridge, served for a time as Sinclair Lewis's secretary, and then worked several years as a journalist. Beginning in 1947, he devoted his time mainly to writing fiction. He won the Pulitzer Prize, taught for two decades at Yale, and was president of the Authors League of America and chancellor of the American Academy of Arts and Letters. John Hersey died in 1993.
Praise For Blues…
"Almost no one has answered 'why fish?' better than Mr. Hersey....what he does best of all is evoke wonder." -- The New York Times Book Review

"Blues is, of course, about much more than the pleasures and techniques of fishing; it is, as Fisherman tells Stranger, about interconnections -- the ties between mankind and the natural world, among others." -- The New Yorker

"Wonderful...He gives us a rich and vivid sense of ocean life....The whole thing is as stately as a minuet, and as graceful." -- Chicago Sun-Times

"Blues informs and enlightens in the grand tradition of open-air, 'universe-in-a-grain-of-sand' writing....Part philosophy, part natural history, part cookbook, part fishing lore, this is a book as singular as its author and his distinguished career."

-- Baltimore Sun
Advertisement