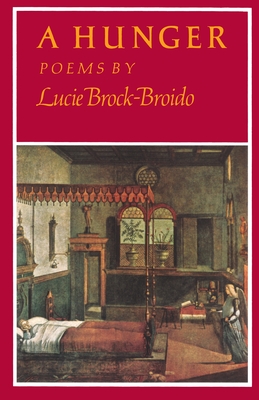 A Hunger (Paperback)
Poems
Knopf, 9780394758527, 72pp.
Publication Date: August 12, 1988
* Individual store prices may vary.
Description
"Brock-Broido's talismanic words open into a magical territory of 'Domestic Mysticism' . . . A violently skewed portrait of the female poet and her Muse, a hyped-up version of Stevens and his interior paramour, locked in a soliloquy 'in which being there together is enough' . . . Something in Brock-Broido likes stealth, toxicity, wildness, neon—'perfect mean lines' . . . The poems lead off the page."
—Helen Vendler, The New Yorker
 
"These poems are out of Stevens in the abundance, glitter, and seductiveness of their language, out of Browning in the authority of their inhabiting, and out of Plath in the ferocity and passion of their holding on—to feeling, to life, and to us . . . An astonishing first book."
—Cynthia Macdonald
 
"Brock-Broido's brilliant nervosity and taste for the fantastic impel her to explore the obscure corners of the psyche and the fringes of ordinary human experience . . . The poems in A Hunger are original, strange, often unsettling, and mostly beautiful."
—Stanley Kunitz
About the Author
Lucie Brock-Broido is the author of two other collections of poetry, The Master Letters and Trouble in Mind. She is Director of Poetry in the School of the Arts at Colombia University. She has been the recipient of awards from the John Simon Guggenheim Foundation, the National Endowment for the Arts, and the American Academy of Arts and Letters. She lives in New York City and in Cambridge, Massachusetts.
Praise For A Hunger: Poems…
"Brock-Broido's talismanic words open into a magical territory of 'Domestic Mysticism' . . . A violently skewed portrait of the female poet and her Muse, a hyped-up version of Stevens and his interior paramour, locked in a soliloquy 'in which being there together is enough' . . . Something in Brock-Broido likes stealth, toxicity, wildness, neon —'perfect mean lines' . . . The poems leap off the page." —Helen Vendler, The New Yorker"These poems are out of Stevens in the abundance, glitter, and seductiveness of their language, out of Browning in the authority of their inhabiting, and out of Plath in the ferocity and passion of their holding on—to feeling, to life, and to us . . . An astonishing first book."—Cynthia Macdonald"Brock-Broido's brilliant nervosity and taste for the fantastic impel her to explore the obscure corners of the psyche and the fringes of ordinary human experience . . . The poems in A Hunger are original, strange, often unsettling, and mostly beautiful." —Stanley Kunitz