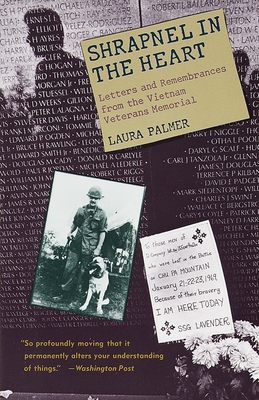 Shrapnel in the Heart: Letters and Remembrances from the Vietnam Veterans Memorial (Paperback)
Letters and Remembrances from the Vietnam Veterans Memorial
Vintage, 9780394759883, 272pp.
Publication Date: November 5, 1988
* Individual store prices may vary.
or
Not Currently Available for Direct Purchase
Description
For the first time, one book gives voice to the haunting, painful, tender, and healing tales of those who lost so much in America's least popular war.
About the Author
Laura Palmer is the author of Shrapnel in the Heart: Letters and Remembrances from the Vietnam Veterans Memorial and has collaborated on a number of other books, including the New York Times bestseller Escape and To Catch a Predator with NBC's Chris Hansen. She lives in New York City.
Praise For Shrapnel in the Heart: Letters and Remembrances from the Vietnam Veterans Memorial…
"This tour de force brings home the pain and suffering of soldiers and kin in a way that no other writing has with which I'm familiar. It is simply splendid." -- Walter Cronkite

"A moving, touching, generous book that helps restore humanity to a generation of young Americans who were depersonalized and dehumanized by the political passions of an unpopular war. Read it and weep." -- Ted Koppel

"This is a book that needed to be written. Laura Palmer's sensitivity and understanding...may indeed make Shrapnel in the Heart a classic." -- Jan Scruggs, President, Vietnam Veterans Memorial Fund

"A powerful and moving book." -- Cyra McFadden

"There is an extraordinary and deeply moving eloquence in these expressions of grief. This is a book that should be read, but it is slow going. It is difficult to read through a steady mist of tears." -- The Atlantic
Advertisement