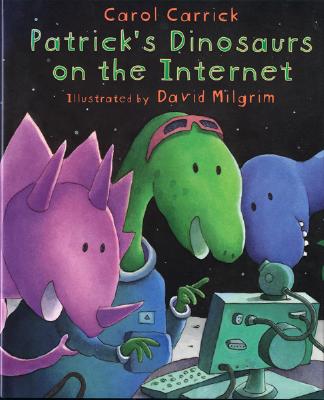 Patrick's Dinosaurs on the Internet (Hardcover)
Clarion Books, 9780395509494, 32pp.
Publication Date: September 20, 1999
* Individual store prices may vary.
Description
Patrick loves dinosaurs, and he loves looking at them on the Internet. But he has no idea that dinosaurs are looking back! One night, Flato, a friendly, freckle-faced creature, invites Patrick to travel in a fantastic spaceship to visit his dinosaur planet. That's only the first of Patrick's amazing adventures, which include an intergalactic soccer game and a close call with a hungry Tyrannosaurus rex. Both longtime fans and first-time readers will adore this delightful new story about Patrick, featuring the work of a distinctive new illustrator who brings his own humorous, contemporary touch to the book.
About the Author
Carol Carrick has written more than twenty-five well-received books for Clarion, including PATRICK'S DINOSAURS, one of the many books illustrated by her late husband, Donald Carrick. She lives in West Tisbury, Massachusetts.
David Milgrim has written and illustrated several books for young readers, including, for Clarion, Thank You, Thanksgiving, and Time to Get Up, Time to Go. He lives with his family in Northampton, Massachusetts.
Praise For Patrick's Dinosaurs on the Internet…
"Patrick's beloved dinosaurs (PATRICK'S DINOSAURS, illustrated by Donald Carrick, 1983, etc.) enter the new millennium with an updated imaginative flight. Patrick, who locates dinosaurs on the Internet, is unaware that the dinosaurs have been observing him from their own planet; he is whisked away one night by the friendly Flato in a ``giant bumblebee'' of a spaceship. When Patrick lands in a dinosaur schoolyard, a clever role reversal takes place and he finds himself the human equivalent of dinosaur ``show and tell.'' In one particularly funny moment, Patrick is grilled with questions such as, ``What is it like to be warm-blooded? Did you hatch from an egg? What is your favorite food?'' A soccer game ensues, shadowed by the arrival of a foot-stomping, tree-cracking tyrannosaurus rex. Patrick is hustled back aboard the spaceship, and lands safely back in his own bedroom, where, instead of stars, he dreams of dinosaurs.... Dinosaur-enthusiasts will welcome the return of their long-necked, personable friends, which Milgrim depicts as cuddly, cartoon-like, Barneyesque blue, green, and purple creatures." Kirkus Reviews
or
Not Currently Available for Direct Purchase