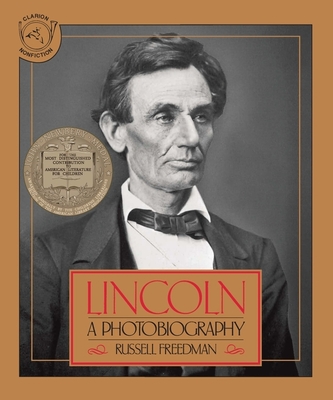 Lincoln
A Photobiography
Paperback

* Individual store prices may vary.
Other Editions of This Title:
Prebound (9/1/1989)
Hardcover (11/16/1987)
Description
In this gripping account of the boyhood, marriage, and young professional life of Abraham Lincoln, award-winning writer Russell Freedman brings to life the presidential years, scholarly thoughts and reflections of the Civil War president. Winner of the 1988 Newbery Medal.

This 1988 Newbery Medal-winning biography of our Civil War president is warm, appealing, and illustrated with dozens of carefully chosen photographs and prints. Russell Freedman begins with a lively account of Abraham Lincoln's boyhood, his career as a country lawyer, and his courtship and marriage to Mary Todd. Then the author focuses on the presidential years (1861 to 1865), skillfully explaining the many complex issues Lincoln grappled with as he led a deeply divided nation through the Civil War. The book's final chapter is a moving account of that tragic evening in Ford's Theatre on April 14, 1865. Additional content includes a sampling of Lincoln's writings and a detailed list of Lincoln historical sites.
Praise For Lincoln: A Photobiography…
"A realistic, perceptive, and unromanticized photobiography of Lincoln, including a sampler of quotations from his writings and speeches."
— Booklist
"Eloquent. . . . A human portrait of a politician honorably confronting the most vexing issues of his era. . . . This biography feels astonishly real."
— The New York Times Book Review
"Few, if any, of the many books written for children about Lincoln can compare with Freedman's contribution. . . . This is an outstanding example of what (juvenile) biography can be. Like Lincoln himself, it stands head and shoulders above its competition." — School Library Journal
Clarion Books, 9780395518489, 160pp.
Publication Date: September 25, 1989
About the Author
Russell Freedman (1929-2018) received the Newbery Medal for Lincoln: A Photobiography. He was the recipient of three Newbery Honors, a National Humanities Medal, the Sibert Medal, the Orbis Pictus Award, and the Laura Ingalls Wilder Award, and was selected to give the 2006 May Hill Arbuthnot Honor Lecture. Mr. Freedman lived in New York City and traveled widely to research his books.