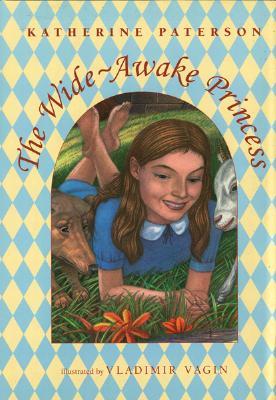 The Wide-Awake Princess (Library Binding)
Clarion Books, 9780395537770, 48pp.
Publication Date: March 1, 2000
* Individual store prices may vary.
Description
In this amusing, eloquently told story, created by Katherine Paterson specifically for artist Vladimir Vagin to illustrate with his beautifully detailed watercolors, there was born a wise little princess who was different from everyone else. Miranda had been granted the gift of being wide awake all her waking hours. Thus, unlike those before her, she was able to see that the peasants of the kingdom were overworked and starving while the nobles lived in selfish luxury. Miranda, with confidence and determination, forms an innovative plan to help her people overcome their oppression, and in the process reveals the power of words to vanquish ignorance and bring about change.
Praise For The Wide-Awake Princess…
"Paterson, who is best known to an older audience, weaves a princess tale with a couple of twists. The King and Queen proclaim a feast to celebrate Miranda's birth, but the whole castle falls asleep before the guests arrive. So when Miranda's fairy godmother finally appears, she gifts the child with the ability to be truly awake all her days. As Miranda grows, she studies castle life, and when her parents die, and the nobles tell her she can't be queen, she goes off to learn what her people's lives are really like. . . . The importance of listening, the courage to make a difference, the certainty that good takes time are ideas skillfully presented and lessons that make the lattice of the story. Vagin . . . contributes dry, slightly exaggerated pen-and- watercolor images that support the wry slant of the text."

Booklist, ALA
or
Not Currently Available for Direct Purchase