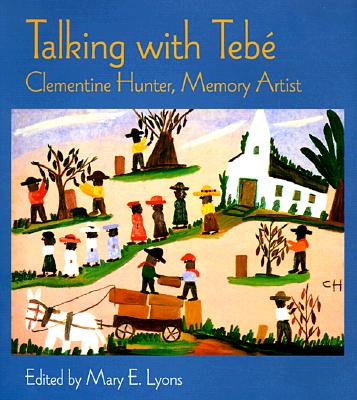 Talking With Tebe: Clementine Hunter, Memory Artist (Hardcover)
Clementine Hunter, Memory Artist
Houghton Mifflin Books for Children, 9780395720318, 48pp.
Publication Date: September 1, 1998
* Individual store prices may vary.
or
Not Currently Available for Direct Purchase
Description
Born in northwest Louisiana in 1886. Called Tebe by her family, Hunter lived and worked on Melrose Plantation for more than 75 years. In colors as bright as the Louisiana sky, she shows the backbreaking work required to pick cotton, gather figs, cut sugar cane, and harvest pecans. Tebe's art portrays the good times, too. Scenes of baptisms, weddings, and church socials celebrate a rich community life that helped the workers survive. Hunter's work holds a special place in art history. She was the first self-taught artist to receive a fellowship from the Rosenwald Fund, in 1945, and the first self-taught African-American woman artist to receive national media attention. Between 1945 and 1987, over fifty museums and galleries showed her works. Some writers have called Clementine Hunter a creative genius. To others she was not a real artist but a "plantation Negro." Many were surprised that an older woman with no training could produce art at all. Now considered one of the finest folk arti.
Praise For Talking With Tebe: Clementine Hunter, Memory Artist…
"The story of her life and art is fascinating, and Lyons has let Tebé, as she was called, tell it in her own words, culled from taped interviews and magazine and newspaper articles. Each short chapter is a well-put-together collection of her pithy comments on some facet of her daily life on Merles Plantation. Hunter's bright, colorful, childlike paintings and a handful of black-and-white photographs decorate the book and illuminate her words. The result is an attractive and appealing volume. Its strength is its wonderful depiction of an extraordinary individual who could not read or write, who lives in the same place all her life, but was nationally known and respected. The book could serve every collection as an excellent biography of a strong woman, as insight into an artist's vision and work, and as a unique slice of Southern history." Booklist, ALA

"Tebé's story contributes to Lyons's growing collection of biographies of African-American artists. Lyons's entire text here is in Clementine Hunter's own words, gathered from magazines, newspapers, and twenty-two taped interviews made by a friend of Hunter's. . . . Totally self-taught and using as her first paint old tubes relegated to the trash, Tebé reconstructs her life on canvas, and Lyons's text sizzles with feistiness, determination, and humor. An editor's note and afterword provide ample evidence of Lyons's thorough research, and speak forcefully about how Tebé's art was dismissed by those who ironically profited from it." Horn Book

"Lyons introduces an extraordinary woman in Clementine Hunter, through careful collages and interviews that present the artist's story in her own words. Born in Louisiana in 1886, Hunter (called Tebé by her family) lived a 'slavelike existence' on the Melrose Plantation, where her back-breaking work consisted of picking cotton, harvesting pecans, gathering figs, and cooking for the owners - all while raising her five children, and painting in rare spare moments. Hunter didn't consider herself an artist, although her self-taught paintings and quilts are indeed works of art. The expertly edited interviews create a glowing portrait of a hard-working, outspoken woman who died in 1988 at the age of 101; the narrative flows, a conversation with the artist about her life that also offers insights into the folk-art style." Kirkus Reviews
Advertisement