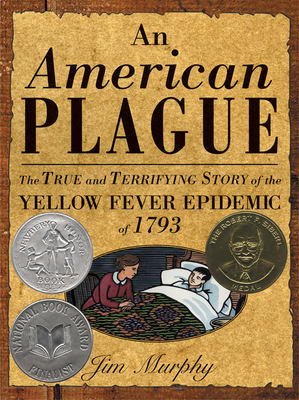 An American Plague
The True and Terrifying Story of the Yellow Fever Epidemic of 1793
Hardcover

* Individual store prices may vary.
Other Editions of This Title:
Digital Audiobook (1/13/2008)
Description
2004 Sibert Medal Winner
A 2004 Newbery Honor Book

1793, Philadelphia. The nation's capital and the largest city in North America is devastated by an apparently incurable disease, cause unknown . . .
In a powerful, dramatic narrative, critically acclaimed author Jim Murphy describes the illness known as yellow fever and the toll it took on the city's residents, relating the epidemic to the major social and political events of the day and to 18th-century medical beliefs and practices. Drawing on first-hand accounts, Murphy spotlights the heroic role of Philadelphia's free blacks in combating the disease, and the Constitutional crisis that President Washington faced when he was forced to leave the city—and all his papers—while escaping the deadly contagion. The search for the fever's causes and cure, not found for more than a century afterward, provides a suspenseful counterpoint to this riveting true story of a city under siege.
An American Plague's numerous awards include a Sibert Medal, a Newbery Honor, and designation as a National Book Award Finalist. Thoroughly researched, generously illustrated with fascinating archival prints, and unflinching in its discussion of medical details, this book offers a glimpse into the conditions of American cities at the time of our nation's birth while drawing timely parallels to modern-day epidemics. Bibliography, map, index.
Praise For An American Plague: The True and Terrifying Story of the Yellow Fever Epidemic of 1793…
"A mesmerizing, macabre account...powerful evocative prose... compelling subject matter...fascinating discussion...valuable lesson in reading and writing history. Stellar." KIRKUS REVIEWS, STARRED REVIEW Kirkus Reviews, Starred

"Leisurely, lyrical tone...Murphy injects the events with immediacy...archival photographs...bring the story to life...comprehensive history." PUBLISHER'S WEEKLY Publishers Weekly

"laudable insight...Readers view the panic from several vantage points...allows his audience to share the contemporary complexity...truly absorbing" THE BULLETIN OF THE CENTER FOR CHILDREN'S BOOKS, STARRED REVIEW The Bulletin of the Center for Children's Books, Starred

"solid research and a flair for weaving facts into fascinating stories...extensive and interesting...you'll have students hooked on history." SCHOOL LIBRARY JOURNAL, STARRED REVIEW School Library Journal, Starred

"History, science, politics and public health come together in this dramatic account...brings the 'unshakeable unease' chillingly close." BOOKLIST Booklist, ALA

"diverse voices...representative images...Everywhere, Murphy is attentive to telling detail...Thoroughly documented...the work is both rigorous and inviting." THE HORN BOOK MAGAZINE Horn Book

"Nobody does juvenile nonfiction better than Murphy...transparently clear and well-paced prose...grueseome medical details...also plenty of serious history" THE WASHINTON POST BOOK WORLD The Washington Post

"superbly written...represents nonfiction at its best...extremely accessible and readable...captivating...an outstanding annotated bibliography...an excellent choice" VOICE OF YOUTH ADVOCATES (VOYA) VOYA (Voice of Youth Advocates)

"Lavishly illustrated . . . Murphy unflinchingly presents the horrors. . . . he has produced another book that can make history come alive. . . ."--NY TIMES BOOK REVIEW The New York Times Book Review

"Murphy's dramatic history book...brings to life the determination and perseverance of a people whose future was uncertain." CHRISTIAN SCIENCE MONITOR Christian Science Monitor
Clarion Books, 9780395776087, 176pp.
Publication Date: June 23, 2003
About the Author
Jim Murphy's nonfiction books have received numerous awards, among them two Newbery Honors, the Sibert Medal, three Orbis Pictus awards, the Margaret A. Edwards award, the James Madison Book Award, and a National Book Award nomination. Born and raised in New Jersey, Jim lives in Maplewood, NJ, with his family. 
jimmurphybooks.com.