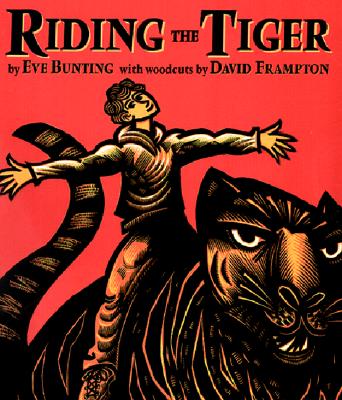 Riding the Tiger (Library Binding)
Clarion Books, 9780395797310, 32pp.
Publication Date: March 1, 2001
* Individual store prices may vary.
or
Not Currently Available for Direct Purchase
Description
Esteemed author Eve Bunting brings all her insight, empathy, and storytelling skill to this powerful allegorical tale, set in the streets of an unnamed city and illustrated with striking woodcuts. Danny, new to town, is proud when a glittery-eyed tiger invites him for a ride. He climbs up onto the tiger's massive back, and together they cruise the neighborhood. Everyone gives them respect—shopkeepers and passersby, even other kids. Danny feels powerful and much older than ten. Soon, though, he realizes it isn't respect people feel for him and the tiger—it's fear. And when he decides to get down off the tiger's back, he discovers it's a lot harder than climbing on.
Whether the tiger is interpreted to represent gangs, drugs, or something else altogether, this poetically told, dramatically illustrated book is sure to provoke discussions about temp-tation, peer pressure, and conformity.
Praise For Riding the Tiger…
In this picture book for older readers, Bunting returns to the theme she examined earlier in Your Move (1998), that of choices that children make when they are tempted to join a gang. This time she uses allegory to make her point. A tiger comes along and invites 10-year-old Danny to climb on its back. Once there, Danny notices the reactions of the people they meet and grows increasingly uneasy as he realizes how frightened they are. The metaphor works beautifully to convey the power and allure of a gang leader and the special feelings of being singled out by someone powerful and splendid. Frampton's woodcuts capture the tiger's magnificance, cruelty, and wickedness by highlighting, at different times, the tiger's sharp teeth, huge paws, and terrifying eyes. The pictures, colored in browns, oranges and reds, mix the real with the fantastical and blend beauty an brutality for a spine-tingling effect. They also mask Danny's ethnicity so that a wide variety of readers can identify with him. Parents, teachers, and others working with children will find this book and Your Move, excellent for discussing what it really means to join a gang—and how to find the courage to steer clear.
Booklist, ALA, Starred Review

A provocative look at a timely topic.
School Library Journal

". . . .the offbeat exploration of a kid on the verge of trouble may provoke discussion and contemplation in readers." The Bulletin of the Center for Children's Books

The prose has a poetic, free-associating quality, and the black woodcut images, set against brooding backdrops, are commanding.
Horn Book Guide
Advertisement