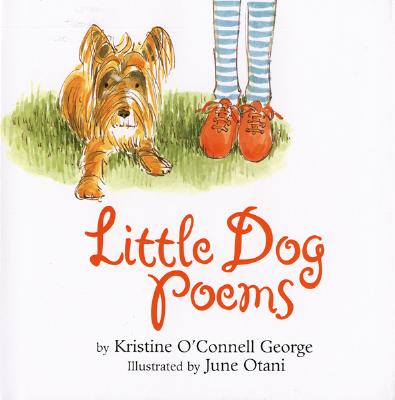 Little Dog Poems (Hardcover)
Clarion Books, 9780395822661, 40pp.
Publication Date: March 22, 1999
* Individual store prices may vary.
Description
From cold-nose wake-up to bedtime with a Little Dog-shaped lump under the covers, a day that a little girl spends with her Little Dog is recounted in thirty short, playful poems and enchanting watercolor illustrations. Little Dog protects the little girl from vacuum cleaners and beetles, chases cats, digs up flowers, and waits hopefully as kitchen preparations take place and as popcorn is eaten. The little girl, who loves Little Dog enough to "bake / birthday cookies with / liver powder," retrieves tennis balls, brings home a present from the pet store, and observes how little a wet Little Dog becomes at bath time. A perfect introduction to the pleasures of poetry, this beguiling volume belongs on every young dog lover's bookshelf.
About the Author
June Otani was a children's book illustrator and printmaker. She passed away in 2012.
 
Kristine O'Connell George is an acclaimed poet who conducts poetry workshops for children and teachers. She is the author of several books of poetry for young people, including Toasting Marshmallows: Camping Poems and The Great Frog Race, winner of the Lee Bennett Hopkins Poetry Award. She lives with her family in Southern California. Visit her online at kristinegeorge.com and on Twitter at @Kristine_George. 
Praise For Little Dog Poems…
From waking ("Little Dog's cold nose / is better than any / alarm clock") to bedtime, a cycle of brief poems follows a busy little golden brown mop of a dog through the day. The events are as ordinary, and as entrancing, as a child's own daily round; the language is simple and concrete enough for the youngest listeners. Little Dog chases the "enemy" vacuum until it "learns its lesson / and stops growling"; watching two delivery vehicles (plus a cat) through the window adds up to a busy morning of "Ground Traffic Control." Some entries are born of human surmises concerning a dog's point of view ("Little Dog watches / chopping / and stirring / with one big thought: / Drop"); all are voiced by the dog's constant companion, a self-possessed little girl. But it's the author's true understanding of canine behavior and her insight into the happy relationship between dog and child that particularly distinguish this book. As the little girl notes, she and Little Dog can teach each other games ("I taught Little Dog to play / Catch. / Little Dog is teaching me to play / Chase"). Like any good friend, this child also respects the dog's opinions, even if they seem a little silly ("Little Dog has six / yellow tennis balls, / all the very same. / The best ball / is the one / under the bed"). Otani's pen-and-watercolor illustrations make a fine complement to the verse, characterizing the pair as curious and alert as well as affectionate. Horn Book

These agreeable poems from George (Old Elm Speaks, 1998, etc.) chronicle a day in the life of a little dog doing little dog things. After the obligatory cold nose wakes the dog's young keeper, the dog duels the vacuum cleaner, surveys the territory from the window, gives the letter carrier notice, curls like a watch spring into a spot of sunlight, snoozes, duels with a beetle, makes a mess, tears things apart, serves and protects. Otani has made the dog a playful terrier typeall vim and vinegar--although the rest of the artwork is attractively delicate. George plays with words with a sure hand; just as surely, Otani picks up on their expressive qualities, e.g., showing the bedraggled pup in ``Bath,'' ``Dripping and soggy,/Little Dog/really is/little.'' A charming glimpse of life with a small dog, and its small but satisfying pleasures.
Kirkus Reviews

"Balancing simplicity with eloquence, the haiku-like verses make an inviting introduction to poetry." School Library Journal, Starred
or
Not Currently Available for Direct Purchase