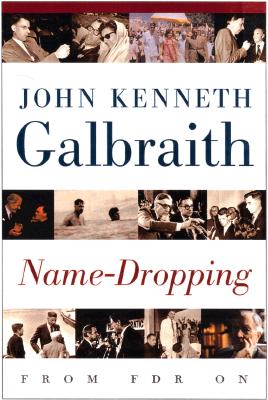 Name-Dropping from F.D.R On
Hardcover

* Individual store prices may vary.
Description
John Kenneth Galbraith, the noted economist, joined Franklin Delano Roosevelt and the New Deal in 1934 and served that administration during World War II in the crucial role of deputy head of the Office of Price Administration in charge of price control. His service to FDR and his relationship with Eleanor Roosevelt began a long involvement with the leaders who would define much of the course of the twentieth century: Truman, Stevenson, John F. and Jacqueline Kennedy, Nehru, Lyndon Johnson, and others at home and abroad. Drawing on a lifetime of access to many of the greatest public figures, Galbraith creates a rich and uniquely personal history of the century -- a history he helped to shape. We are invited to hear FDR on the Great Depression and World War II; Albert Speer, the Third Reich's architect and armaments minister, on the boorishness and incompetence of the Nazi leadership; John F. Kennedy, from youth to the presidency; Jacqueline Kennedy's shrewd judgments of the White House inner circle. In this clear-eyed, unsparing, and amusing look back at the world and the people he has known, Galbraith tells what these leaders did -- how they looked to him then and how they look to him now -- with unforgettable reminiscences and a rich infusion of engaging anecdotes. Name-Dropping charts the political landscape of the past sixty-five years with the dazzling insight, humor, and literary skill that mark Galbraith as one of the most distinguished writers of our time. Just some of the portraits . . . Eisenhower's brother remembered a meeting in the Oval Office at which some difficult and potentially very unpopular decision was reached. Reflecting on the expected adverse reaction, Ike had said, "It's all right. When I've explained it to the press, no one will have any clear idea what we intend to do." Kennedy's preference for plain talk did not spare his friends. Before I left for New Delhi in April 1961, we had a farewell breakfast at the White House. That morning the New York Times had a piece on the new ambassador to India; Kennedy asked how I liked it. It had been generally favorable, and I said it was all right, but I didn't see why they had to call me arrogant. "I don't know why not," said Kennedy. "Everybody else does." Nehru said that one day at Gandhi's ashram in Ahmedabad a friend and supporter sought to ease a conflict with the British Viceroy by saying, "Mahatma, you must know that Lord Irwin never makes a decision without praying over it first." Gandhi reflected on this for some minutes. Then he said, "And why do you suppose God so consistently gives him the wrong advice?" Johnson once said to me, "Did it ever occur to you, Ken, that making a speech on economics is a lot like pissin' down your leg? It seems hot to you, but it never does to anyone else." Not since have I given a speech on economics without having that metaphor in mind.
Praise For Name-Dropping from F.D.R On…
"Name-Dropping: From FDR On is mischievously and merrily unrepentant." Boston Globe

"It is not usual for a man past his 90th birthday to write a book that is as fresh and lively as the work of a 30-year-old. But John Kenneth Galbraith is not a usual man, and he has done it." The New York Times

"[Galbraith's] impressionistic sojourn through his astounding career provides glimpses of some of the century's most remarkable personalities -- including his own." Publishers Weekly

"Galbraith never pretends to greater intimacy than he achieved with the public figures he describes in these brief essays, but each portrait tells us something we wouldn't have otherwise known." The New Yorker

"Ken Galbraith's book is a delight -- full of wonderful vignettes as well as his usual caustic wit and wisdom." -- Joseph Nye, Dean, John F. Kennedy School of Government

"With wondrous prose, brilliant wit, and profound insight, John Kenneth Galbraith has re-created his era and made it ours. Name-Dropping is history made both entertaining and memorable." -- William J. vanden Heuvel, President, Franklin and Eleanor Roosevelt Institute

"Wise, brilliant, witty, young in spirit, aged in loyalty and in friendship -- with a love of life -- and Kitty -- all packed into a 6 foot 8 inch giant of wry bemusement." -- Senator Alan K. Simpson

"With characteristic wit and unconventional wisdom, Galbraith illuminates several of the century's great, near-great, and not-as-great-as-they-thought-they-were. Name-Dropping is simply a delight." -- Robert B. Reich

"Rightly acclaimed as an economist, here in Name-Dropping, Galbraith demonstrates himself the consummate litterateur and master of the biographical sketch. In these beautifully-executed renderings of friends and acquaintance who just happen to be among the 20th century's major figures), he is wise, sly, funny, and perfectly pitched in his assessments." -- Dr. Richard Parker, John F. Kennedy School of Government, Harvard University

"When the lapidary Kenneth Galbraith drops names they fizz like bubbles in a champagne of a book: John Kennedy and Jacqueline, FDR, Eleanor, Adlai Stevenson, Albert Speer, Bernard Baruch, Harry Truman, Nehru, and LBJ. The wit and insights are vintage Galbraith." -- Harold Evans, author of The American Century

"It is hard to believe that Galbraith is an economist, for he is such a gifted writer...More than the self-effacing title indicates, this book offers important insights into the people and times on which its author reflects. Galbraith writes with a wit, style, and elegance few can match... At its close, Galbraith helps us make sense of the people and forces that shaped the 20th century." Library Journal

"Name-Dropping is a look at prominent people the former ambassador to India and famed economist has known, from FDR on." -- Larry King USA Today

"Names? You want names? No one knows better ones than John Kenneth Galbraith." The San Diego Union-Tribune

"If the title of John Kenneth Galbraith's latest and most charming memoir turns you off, wait a moment...This slim book serves to remind us that idealism and trust once existed in the White House and Washington, a fact that may seem unbelievable to the present generation." Newsday

"No one has been more inside than John Kenneth Galbraith. In Name Dropping, he shares a dozen intimate portraits of the men and women who figured prominently in his life - from Harry Truman to Jacqueline Onassis." Town and Country

"A lively and breezy set of essays with flashes of penetrating insight." The Boston Book Review

"Writing with great decorum, and even greater intelligence, Galbraith focuses on personality and politics in his fond but balanced portraits of the powerful." Boston Magazine
Houghton Mifflin, 9780395822883, 194pp.
Publication Date: May 6, 1999
or
Not Currently Available for Direct Purchase