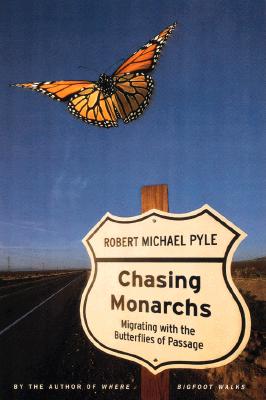 Chasing Monarchs (Hardcover)
Migrating with the Butterflies of Passage
Houghton Mifflin Harcourt, 9780395828205, 320pp.
Publication Date: August 1, 1999
Other Editions of This Title:
Paperback (4/29/2014)
Paperback (5/1/2001)
* Individual store prices may vary.
Description
After chasing Bigfoot in his last book, Robert Pyle has shifted his attention to a smaller creature, but one that is just as remarkable. The monarch butterfly is our best-known and best-loved insect, and its annual migration over thousands of miles is an extraordinary natural phenomenon, though one that is poorly understood. Myths about the monarchs' travels abound, and to separate fact from fiction, Pyle set out late one summer to follow the wanderers south from their northernmost breeding grounds in British Columbia. He migrated with them down the Columbia, Snake, Bear, and Colorado Rivers, across the Bonneville Salt Flats, through Hell's Canyon and the Grand Canyon, to Mexico, then turned up the California coast to track another leg of their migration. CHASING MONARCHS is one of the most fascinating book ever written about butterflies. It's also a lively and compelling travel book about the American West, filled with unforgettable places and characters, both animal and human.
Praise For Chasing Monarchs: Migrating with the Butterflies of Passage…
"Pyle follows the monarchs' path... describing the land, the people he meets, and the plants, birds, and animals as precisely as he explicates the wonders of the monarchs' navigational abilities and endurance, their beauty, and their mystery." Booklist, ALA

"[Chasing Monarchs] serves both as tribute to this majestic insect and as a thoughtful tour of the contemporary American West." Publishers Weekly

"Chasing Monarchs, like all of Bob Pyle's books, is infused with grace, understanding, and an incredibly expansive knowledge of the world surrounding us." -- David Guterson, author of Snow Falling on Cedars

"With a keen eye, kaleidoscopic knowledge, and Nabokovian eloquence, Pyle beguiles us to join him on a 9,500-mile journey following migrating monarch butterflies through the mountains and along the rivers from British Columbia to the Mexican border. Chasing Monarchs is a marvelously rich tapestry of natural and human history." -- Lincoln P. Brower

"Robert Pyle is one of America's exceptional naturalists and one of its finest natural history writers. In this stylishly written book he tracks the monarchs' spectacular migration from Canada to Mexico, describing not only the creatures that have captured his imagination but also his adventures along the way. Chasing Monarchs is Robert Pyle's best book yet." -- Sue Hubbell, author of Waiting for Aphrodite and A Country Year

"Not only is this an entertaining work for general readers, but professional entomologists could also mine its observations for clues into the biology and behaviors of monarchs. " Library Journal

"[Pyle] set out three years ago...following the migrating monarchs from Canada to Mexico in his old car and with his old butterfly net. His chronicle of that journey is a pleasure: informative, funny, wonderfully absorbing in its curiosity and erudition about the natural world, and even eloquent." The San Francisco Chronicle

"[Pyle's] delightful anecdotes, thought provoking philosophical questions and personal passion makes this chronicle a potential classic." Monarch News

"If you enjoy the intellectual stimulus of traveling the footsteps of scientists, you'll like Robert Michael Pyle's Chasing Monarchs... Enthused by his enthusiasm, we come away with a heightened appreciation of the lives of birds and insect." America West
or
Not Currently Available for Direct Purchase