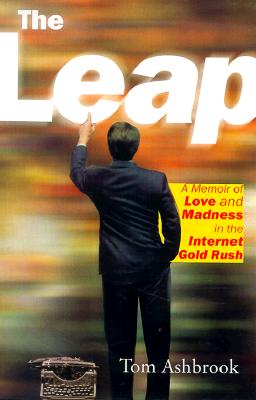 The Leap: A Memoir of Love and Madness in the Internet Gold Rush (Hardcover)
A Memoir of Love and Madness in the Internet Gold Rush
Houghton Mifflin Harcourt, 9780395839348, 304pp.
Publication Date: May 1, 2000
* Individual store prices may vary.
or
Not Currently Available for Direct Purchase
Description
In 1996, Tom Ashbrook was an international reporter who, in a crisis of the soul, resolved to join an old college classmate on the Internet rocket ride. THE LEAP tells the story of how he walked away from an enviable career to launch a risky new business venture, and it could serve as a template for anyone with e-commerce fantasies. As a deeply felt tale of a man who risks and rediscovers his family and purpose, it also has all the hallmarks of a classic. Ashbrook undertakes his white-knuckle journey in pursuit of the dream of an Internet startup without business experience, a technical background, or money. "I always knew you would do something crazy in the middle of your life," his wife, Danielle, tells him as their relationship careens through a dramatic rebirth of its own. "I just never knew it would be this kind of crazy." Ashbrook's odyssey is also the great American joy ride -- the story of two guys in the laboratory, in the garage, on the frontier, betting the ranch and then racing, half scared out of their wits, half giddy with adrenaline, toward the finish line. Success, when it finally comes, is sweet, but it is Ashbrook's story of self-transformation along the way that wins our hearts with its candor, its unabashed zeal, and the self-deprecating humor the author shares as he throws himself and his family over the edge in the middle of life to reach out for a new beginning.
Praise For The Leap: A Memoir of Love and Madness in the Internet Gold Rush…
"a lively... read." The Washington Post

"The Leap is something genuinely new among books on the emerging tech economy. It is a risk-taker's account that makes vivid what risk really means... enjoyable and provocative." -- James Fallows, author of Breaking the News

"Self-deprecating humor and gut-wrenching suspense (Will the money run out? Will his wife?). By the end, you're praying for this guy to make it." Time Magazine

"Tom Ashbrook's tale of self-doubt ... marital discord and a $25 million jackpot is just the thing to inspire would-be entrepreneurs to take the start-up plunge." Salon

"Entertaining and compelling. (Check out his wife Danielle's valentine to him...)." Fortune

"A gripping account of an e-commerce start-up by a journalist-turned-entrepreneur." Boston Globe

"Kudos to author Ashbrook for this heart-felt, sobering saga of his walking away from financial security to launch a risky new Internet business venture....Throughout, the author's penetrating candor and self-deprecating humor whirl the reader through his family's ordeal....this is a wild ride of a story." Library Journal
Advertisement