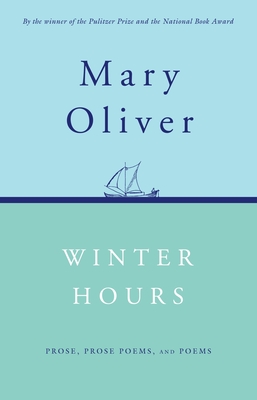 Winter Hours
Prose, Prose Poems, and Poems
Paperback

* Individual store prices may vary.
Description
From the winner of the Pulitzer Prize and the National Book Award, her most personal book yet "What good company Mary Oliver is!" the Los Angeles Times has remarked. And never more so than in this extraordinary and engaging gathering of nine essays, accompanied by a brief selection of new prose poems and poems. (One of the essays has been chosen as among the best of the year by THE BEST AMERICAN ESSAYS 1998, another by The Anchor Essay Annual.) With the grace and precision that have won her legions of admirers, Oliver talks here of turtle eggs and housebuilding, of her surprise at an unexpected whistling she hears, of the "thousand unbreakable links between each of us and everything else." She talks of her own poems and of some of her favorite poets: Poe, writing of "our inescapable destiny," Frost and his ability to convey at once that "everything is all right, and everything is not all right," the "unmistakably joyful" Hopkins, and Whitman, seeking through his poetry "the replication of a miracle." And Oliver offers us a glimpse as well of her "private and natural self—something that must in the future be taken into consideration by any who would claim to know me."
Praise For Winter Hours: Prose, Prose Poems, and Poems…
"What good company Mary Oliver is!" The Los Angeles Times

"A treat for those who know and like her poems and a good introduction for the general reader who has yet to discover her work." Pittsburg Post Gazette
Mariner Books, 9780395850879, 128pp.
Publication Date: April 24, 2000
About the Author
A private person by nature, Mary Oliver (1935–2019) gave very few interviews over the years. Instead, she preferred to let her work speak for itself. And speak it has, for the past five decades, to countless readers. Over the course of her long and illustrious career, Oliver received numerous awards. Her fourth book, American Primitive, won the Pulitzer Prize for Poetry in 1984. She also received the Shelley Memorial Award; a Guggenheim Fellowship; an American Academy and Institute of Arts and Letters Achievement Award; the Christopher Award and the L.L. Winship/PEN New England Award for House of Light; the National Book Award for New and Selected Poems; a Lannan Foundation Literary Award; and the New England Booksellers Association Award for Literary Excellence.