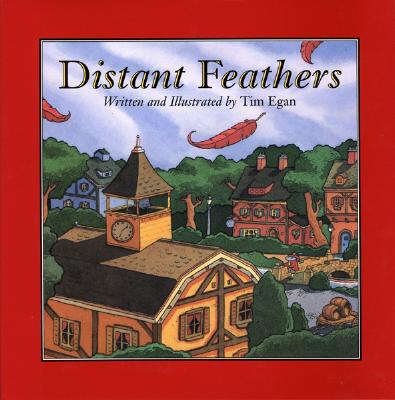 Distant Feathers (Library Binding)
Houghton Mifflin Books for Children, 9780395858080, 32pp.
Publication Date: March 1, 1998
* Individual store prices may vary.
Description
When a huge bird from another planet suddenly turns up on Sedrick's roof, he isn't sure what to do with him. It turns out that all Feathers wants is bread, any kind of bread - sesame, wheat, sourdough, pumpernickel - but it takes everyone in town baking all day to provide enough to feed the monstrous bird. They try to get Feathers to earn his keep by lending a hand - or beak, as it were. But he's so large and klutzy that his help usually creates even more problems. Keeping Feathers in bread and out of trouble is starting to be too much for the little town. But when Feathers is swept away by a hurricane, the townspeople, especially Sedrick, mourn his loss. Feathers eventually returns to the town, where he remains, entertaining the folk with stories about his native planet - Earth.
About the Author
Tim Egan is the author and illustrator of several offbeat and humorous tales for children. He is consistently recognized for his individuality and delightful illustrations. Born in New Jersey, Tim moved to California to attend the Art Center College of Design in Pasadena, California. He still lives in southern California with his wife, Ann, and their two sons. To learn more about Tim Egan, visit his Web site at www.timegan.com. For a complete list of books by Tim Egan, visit www.houghton mifflinbooks.com.
Praise For Distant Feathers…
"one of the most interesting author-illustrators around, always trying something new and quirky." Booklist, ALA
or
Not Currently Available for Direct Purchase