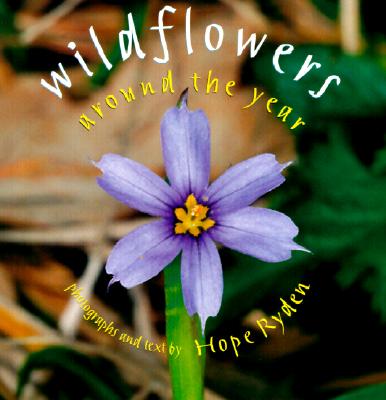 Wildflowers Around the Year (Hardcover)
Clarion Books, 9780395858141, 96pp.
Publication Date: March 1, 2001
* Individual store prices may vary.
or
Not Currently Available for Direct Purchase
Description
While snow was still on the ground, noted naturalist/photographer Hope Ryden set out to find and document the wide variety of wildflowers that bloom each season. In conversational essays accompanied by stunning full-color photographs, she introduces readers to more than thirty wildflowers found in backyards, vacant lots, and swamps across the country, from the common dandelion to the rare and delicate nodding ladies tresses. She also tells the story behind the name of each flower and describes the relationship each has with its specific winged pollinatorbird or insect.
Informative and beautiful to look at, Wildflowers Around the Year will inspire young readers to start their own search for these often hidden treasures. Bibliography.

Praise For Wildflowers Around the Year…
[Ryden's] large, incredibly sharp, full-color photos of 38 species are stunning. The text accompanying each picture is both informative and personal.
School Library Journal, Starred

There's nothing about the design of this handsome book of wildflowers to indicate it was written for children; it's the short, simple text that makes it accessible. Each spread includes a white-bordered page featuring a clear, colorful photo of the plant in the wild. The facing page offers the plant's common and botanical names, its season for blooming, and a few paragraphs of information, which might include the derivation of its name, details of the plant's fertilization, and interesting facts about the plant and its uses in food or medicine. Occassionaly, a double-page spread will include two close-up photos of flowers. Although not quite avuncular, the formal yet conversational tone of the writing is reminiscent of a chatty, well-informed aunt guiding the reader through forest and meadow.
Booklist, ALA

A beautiful browsing book of wildflower photos and meandering reminiscences by the author of Wild Horses I Have Known and other books on nature. . . .this is sure to be enjoyed by nature lovers and great for quick identification of something lovely.
Kirkus Reviews

The flowers found in our everyday environments "poking their impudent faces through cracks in the sidewalks or adding gay color to sunbleached roadsides and vacant lots"—as well as a bit further off-road in forests and meadows— serve as inspiration and material for Ryden's lyrical nature writing and exquisite photography.
Horn Book
Advertisement