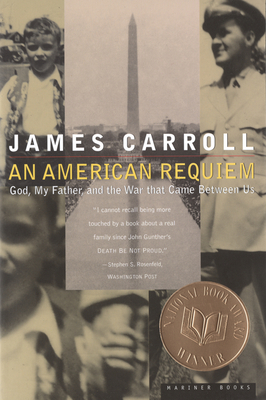 An American Requiem
God, My Father, and the War That Came Between Us
Paperback

* Individual store prices may vary.
Description
An American Requiem is the story of one man's coming of age. But more than that, it is a coming to terms with the conflicts that disrupted many families, inflicting personal wounds that were also social, political, and religious. Carroll grew up in a Catholic family that seemed blessed. His father had abandoned his own dream of becoming a priest to rise through the ranks of Hoover's FBI and then become one of the most powerful men in the Pentagon, the founder of the Defense Intelligence Agency. Young Jim lived the privileged life of a general's son, dating the daughter of a vice president and meeting the pope, all in the shadow of nuclear war, waiting for the red telephone to ring in his parents' house. He worshiped his father until Martin Luther King, Jr., the civil rights movement, turmoil in the Catholic Church, and then Vietnam combined to outweigh the bond between father and son. These were issues on which they would never agree. Only after Carroll left the priesthood to become a writer and husband with children of his own did he come to understand fully the struggles his father had faced. In this work of nonfiction, the best-selling novelist draws on the skills he honed with nine much-admired novels to tell the story he was, literally, born to tell. An American Requiem is a benediction on his father's life, his family's struggles, and the legacies of an entire generation.
Praise For An American Requiem: God, My Father, and the War That Came Between Us…
"Autobiography at its best." Publishers Weekly

"A tragic, moving book about a family torn apart by the Vietnam War, a young man looking for God, a writer finding his voice." -- Boston Magazine
Mariner Books, 9780395859933, 304pp.
Publication Date: April 1, 1997
About the Author
James Carroll was raised in Washington, D.C., and ordained to the Catholic priesthood in 1969. He served as a chaplain at Boston University from 1969 to 1974, then left the priesthood to become a writer. A distinguished scholar-
in-residence at Suffolk University, he is a columnist for the Boston Globe and a
regular contributor to the Daily Beast.
His critically admired books include Practicing Catholic, the National Book Award–winning An American Requiem, House of War, which won the first PEN/Galbraith Award, and the New York Times bestseller Constantine's Sword, now an acclaimed documentary.

How did Lieutenant General Joseph Carroll, in his person and his history, embody the forces that shaped James's life and behavior?
How are various hierarchical authorities, both institutional and individual, portrayed in the book? How do father and son, individually, relate to them?
What is the significance of Carroll's beginning the book with his ordination Mass and closing with Joseph Carroll's requiem Mass? Is this framing device appropriate to the progression of the book's narrative?
In chapter 1, Carroll writes that, during the early years of his anti-war activity, "I was two people, and . . . each of my selves seemed to have a coherence and integrity that were belied by the fact that I could not bring them together." Does he succeed in integrating his disparate selves?
In chapter 1 and again in the final chapter, Carroll writes, "I believe that to be made in God's image is to do this: arrange memory and transform experience according to the structure of narrative. The story is what saves us." How does this belief relate to both Carroll's personal development and his book?
The concept of redemption recurs in various contexts, not all of them religious. What kinds of redemption are presented? Does one eventually assume precedence?
What are the similarities and differences between Carroll's life and his father's? How did his father's life and career shape Carroll's own?
What photographs in the book seem of particular importance? What is their significance in the progression of James Carroll's life?
Several men play important roles and have profound influences, both positive and negative, at key points in Carroll's life. Who are these men and what are their roles and influences?
In chapter 3, Carroll writes that "[presidential] inaugurations had been like a sacrament of the streets to me, rituals of rebirth," and he later refers to "the holy mysteries of Washington." What other religious or liturgical terminology is used to characterize political and social events, places, and people? What effect does the use of this terminology have?
What biblical allusions and images occur in the book? How do they enhance Carroll's narrative and our understanding of his story?
Does Carroll succeed, at the book's conclusion, in achieving "the acceptance and forgiveness and affirmation" that, in chapter 4, he longs to bestow on his own younger self?
In chapter 5, Carroll identifies "three distinct but related revolutions&emdash;interpersonal, religious, political&emdash;that I underwent as a Paulist." Does he convincingly demonstrate the occasions and nature of each of these "revolutions" as the book proceeds?
In chapter 6, Carroll refers to "the worship of false gods, the making of idols" as "the sin to watch out for." What does he mean by this? Can you identify the false gods and idols to which he refers?
What bearing on his personal story do Carroll's narratives of events outside his own direct experience or observation have (e.g., political corruption in 1930s Chicago, the FBI's harassment of Martin Luther King)? Are they necessary to his, and our, understanding of his experience?
The words "priest," "poet," and "prophet" can be applied, individually or together, to specific persons who appear in Carroll's narrative. Who are these priests, poets, and prophets, and how do they embody the qualities of each role?
Does Carroll present a coherent picture of the true dynamics of his family, including his own relationships with his mother and four brothers? Does he focus too narrowly on his relationship with his father?
On the book's final page, Carroll makes a number of statements that reflect on both his life and his book. How does each of these statements relate to everything that has come before?
or
Not Currently Available for Direct Purchase