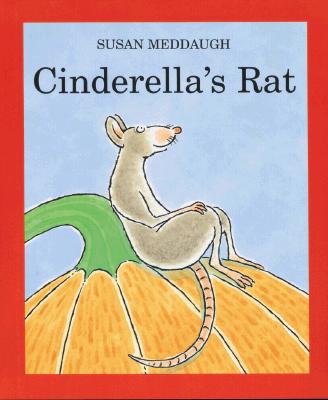 Cinderella's Rat (Library Binding)
Houghton Mifflin Books for Children, 9780395868331, 32pp.
Publication Date: September 1, 1997
* Individual store prices may vary.
or
Not Currently Available for Direct Purchase
Description
When is a rat not a rat? When Cinderella's fairy godmother turns him into a coachman - well, more of a coachboy. And what does the coachboy think of this sudden change in his life? He's delighted to find the open bags of grain in the castle larder. But soon enough, trouble begins. His sister, unchanged by the godmother's magic spell, scurries across the larder floor and is in danger of being stomped to death by the coachboy's newfound friend. How can he save her without revealing his secret? Life is full of surprises. Pumpkins turn into coaches and mice into horses, and an overworked wizard can create stranger magic than Cinderella's fairy godmother ever dreamed of. Susan Meddaugh uses her wit and animated artwork to give us a hilarious new take on an old tale in this story of an ordinary rat caught in extraordinary circumstances.
About the Author
Susan Meddaugh was born and raised in Montclair, New Jersey. She graduated from Wheaton College, where she studied French literature and fine arts. After working briefly with an advertising agency in New York, she moved to Boston and worked at a publishing company for ten years, first as a designer, then art editor, and finally as art director. While there, she did the illustrations for GOOD STONES (Houghton Mifflin) by Anne Epstein, and then decided to strike out on her own as a freelance illustrator and creator of children's books. Since that time, Susan has written and illustrated many popular books for children, including MARTHA SPEAKS, which was chosen as a NEW YORK TIMES Best Illustrated Book for 1992. In 1998 she was awarded the New England Book Award, given by the New England Booksellers Association to recognize a body of work. Her work also was acknowledged with a New York Times Best Illustrated Award. She lives in Sherborn, Massachusetts.
Praise For Cinderella's Rat…
"This spinoff from the Cinderella story is an instant classic -- children will love it. . . . Humor permeates the tale, while clever twists shape it." Kirkus Reviews

"This spoof tickles and surprises royally." School Library Journal, Starred
Advertisement