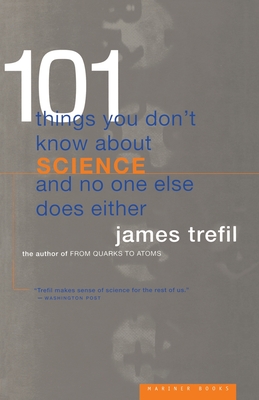 101 Things You Don't Know About Science and No One Else Does Either (Paperback)
Mariner Books, 9780395877401, 368pp.
Publication Date: November 14, 1997
* Individual store prices may vary.
Description
James Trefil takes the reader on a thrilling tour across the borders of current scientific knowledge-from astronomy to genetics, from information technology to cosmology, the great contested questions that preoccupy researchers today and will become headlines tomorrow. In elegant, witty three-page summations, Dr. Trefil "makes sense of science for the rest of us" (Washington Post).
About the Author
James Trefil, the Clarence J. Robinson Professor of Physics at George Mason University, is the author or coauthor of more than thirty books, including The New Dictionary of Cultural Literacy.
Praise For 101 Things You Don't Know About Science and No One Else Does Either…
"It is no mean feat to explain Quasars in Just a few pages." Publishers Weekly

"makes sense of science for the rest of us" The Washington Post