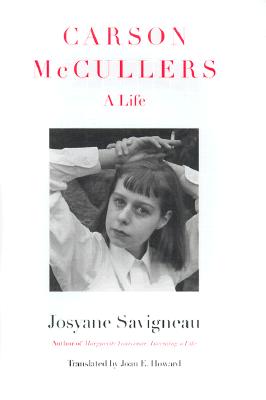 Carson McCullers: A Life (Hardcover)
A Life
Houghton Mifflin Harcourt, 9780395878200, 384pp.
Publication Date: February 1, 2001
* Individual store prices may vary.
or
Not Currently Available for Direct Purchase
Description
"Writing is my occupation," Carson McCullers often said. "I must do it. I have done it for so long." The beloved author of such classics as THE HEART IS A LONELY HUNTER, THE MEMBER OF THE WEDDING, and REFLECTIONS IN A GOLDEN EYE, McCullers began writing her first best-selling novel at the age of twenty. It was the start of a lifelong love affair with stories and language -- and of the creation of a body of work that continues to draw new generations of readers.
In CARSON MCCULLERS: A LIFE, Josyane Savigneau gives us at last a truly popular biography of one of America's greatest women novelists. Carson McCullers's life story rivals the plot of any of her novels. A brilliant, sensitive artist who had a painful small-town childhood in the South and early international success, she was crippled by a mysterious disease in early adulthood. A woman who composed the most romantic of letters, she struggled to find lasting happiness with her husband, Reeves, whom she married twice. Carson wrote often of the loneliness of the human condiiton, and yet she surrounded herself with a constellation of witty, always entertaining celebrities: Tennessee Williams, Truman Capote, Katherine Anne Porter, Richard Wright, John Huston, and Edward Albee, among others.
The first biographer to have the full cooperation of the McCullers esate, Josyane Savigneau has uncovered the private Carson McCullers, a woman who never really grew up yet was always seductive, a woman whose candor and immense emotional needs sometimes overshadowed her great charm, generosity, loyalty, humor, and deep intelligence. Above all, Carson was a life force, a person who needed to write and who did so despite great physical pain, up until the very end. Published to rave reviews in France, this passionate biography is one that "must [be] read . . . to measure the full extent of McCullers's torment and her determination to overcome her suffering" (L'EXPRESS).
Praise For Carson McCullers: A Life…
"[Carson McCullers: A Life] is a hugely readable and remarkably sympathetic book that helps us to better understand a complex, enigmatic writer whose life and work continue to enthrall."

- F.P., Elle Magazine Elle
Advertisement