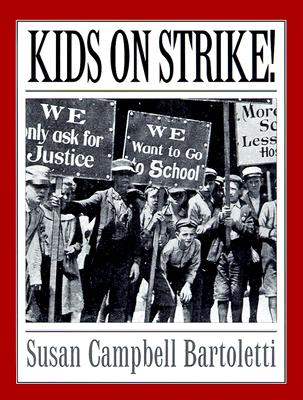 Kids On Strike!
Hardcover

* Individual store prices may vary.
Other Editions of This Title:
Paperback (8/25/2003)
Description
Kids on Strike! tells the story of children who stood up for their rights against powerful company owners, from a "turn-out" in Lowell, Massachusetts, in 1836 led by eleven-year-old Harriet Hanson to the dramatic strike of 1912 in Lawrence, Massachusetts. By the early 1900s nearly two million children were in the United States work force. Their tiny fingers, strong eyesight, and boundless energy made them perfect employees. But after years and years of working long hours every day under harsh and inhumane conditions, children began to organize and make demands in order to protect themselves. They fought for better wages, fairer housing costs, and safer working environments. Susan Campbell Bartoletti tells of labor strikes led by young people throughout the United States. Illustrated with more than one hundred photographs from newspapers and journals as well as with the work of photographer Lewis Hine, this book provides an inside look at the individual and gripping events that shaped t
Praise For Kids On Strike!…
Throughout much of the nation's history, young people were forced by necessity into the labor market. This book focuses on children and teenagers who endured unbearably long working days, dangerous job responsibilities, and paltry wages, yet were empowered by their quest for civil rights. Each chapter recounts an important labor battle of the nineteenth or early twentieth century and explores the role that children played in it. Some protests, including the mill girls' strike for higher wages in 1836 New England and the New York City rent protest led by sixteen-year-old Pauline Newman, were organized by young people. Others, such as the turn-of-the-century Pennsylvania coal strikes, were initiated by adult workers, although children also participated. The well-designed book, liberally illustrated with black-and-white archival photographs, documents these events through the experiences of specific children profiled in the lean, compelling text. The book is honest in describing not only the strikes that ended in success but also those that failed or resulted in limited victories. The final chapter surveys the development of the National Child Labor Committee and briefly touches on the plight of African-American child laborers (who frequently worked for no pay at all) and the pioneering art of Lewis Hine, whose photographs of child workers brought the issue before the American public. Finally, it includes information on the later life experiences of many of the children discussed in the text. As memorable as their inspiring stories are, they represent just a few of the children who worked and battled for better lives. The anonymous children depicted in the photographs-older than their years, dirty, sometimes maimed by factory machinery-are equally haunting and affecting. Bibliographical references, an index, and a helpful "Timeline of Federal Child Labor Laws" are included.
Horn Book

"A comprehensive examination of the socioeconomic factors that spurred the formation of child organized strikes, this historical tour de force elucidates why child labor laws were developed and continue to be such a necessity. Bartoletti (No Man's Land, p. 627, etc.) looks at the major industries that profited from the exploitation of child labor and how those employed by such operations worked to create a better environment for themselves and others. While there is mention of the Newsie Strike' in New York City and the fate of the sharecroppers in the southern cotton industry, the garment and coal mining industries loom as the real villains in child labor issues. Bartoletti provides numerous examples of how debilitating poverty drove entire families to work in utter squalor and suffer cruel treatment at the hands of profit-driven conglomerates. Personal stories illuminate the wretched conditions under which many of these children labored, with a focus on the instances when a child mobilized fellow workers to demand their rights. The grit and determination of these children who, in the face of police abuse, bureaucratic negligence, and governmental (even presidential) indifference, banded together for a common cause, and the startling black-and-white photographs, ensure that readers will be alternately awed and appalled by this stunning account of child labor in the US." Kirkus Reviews

"Through personal narratives and powerful photographs and reproductions, this book tells the dynamic story of child labor in America and the efforts to organize to achieve social justice." School Library Journal
Houghton Mifflin Books for Children, 9780395888926, 208pp.
Publication Date: October 1, 1999
About the Author
Susan Campbell Bartoletti is the award-winning author of several books for young readers, including Black Potatoes: The Story of the Great Irish Famine, 18451850, winner of the Robert F. Sibert Medal. She lives in Moscow, Pennsylvania."
or
Not Currently Available for Direct Purchase