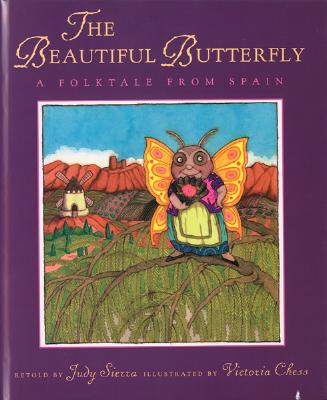 The Beautiful Butterfly (Library Binding)
A Folktale from Spain
Clarion Books, 9780395900154, 32pp.
Publication Date: March 1, 2000
* Individual store prices may vary.
Description
A beautiful butterfly is courted by many suitors. She finally finds a husband who has a singing voice soft and sweet enough to please her, but no sooner does the honeymoon begin than he is swallowed by a giant fish! All of nature joins her in mourning, setting off a comical chain of events that results in a second chance for the beautiful butterfly and her devoted husband. Enchantingly original depictions of the beautiful butterfly and her friends and an inventive happy ending reveal the sweetness and humor of this enduring Spanish folktale. FOLKLORE NOTE.
Praise For The Beautiful Butterfly: A Folktale from Spain…
"This is a winner for storytime programming and classroom readalouds, and curriculum tie-ins are easier than falling in a pond." The Bulletin of the Center for Children's Books

"The subtitle, 'A Folktale from Spain,' might as well read 'THE folktale from Spain' for the story's plethora of published versions and its close association with so many of the Hispanic tradition's far- flung permutations. In this version, Sierra exercises the storyteller's prerogative by changing the usual tragic ending to one that will evoke smiles. After rejecting a number of harsh-voiced suitors, Butterfly chooses Mouse for his sweet tones. The nuptials are cut short, however, when Mouse falls into a pond and is snapped up by a fish. Echoing Butterfly's grief, the tree drops its leaves, the dove weeps, and the king sheds his cloak to go about in his royal undergarments. . . . Chess adds a madcap atmosphere with gouache scenes of staring, sunken- eyed, richly dressed figures posing in a grassy, sunlit glade. Sierra cites no specific sources but appends a background note and tells the tale in a simple, straightforward way that will make it equally easy to read or learn."

Booklist, ALA

"The team behind Good Night, Dinosaurs here grants a happy ending to the tale of a heroine whose search for a mate traditionally ends with his death. In Sierra's comical version, a beguiling butterfly tests her suitors by asking them to sing. She listens patiently as the cricket "clicks," the frog "coo-ahs," and with a determined flick of her Spanish fan, she chooses the song of a gray mouse. . . . Sierra fills her cleverly and economically told tale with repeated phrases and sounds that trip off the tongue, while Chess's droll watercolors provide just the right amount of tartness for the sweet text." Publishers Weekly, Starred

"This is a good addition to the canon of...animal-wooing stories" School Library Journal

"the illustrations are brightly detailed" Children's Book Review Service
or
Not Currently Available for Direct Purchase