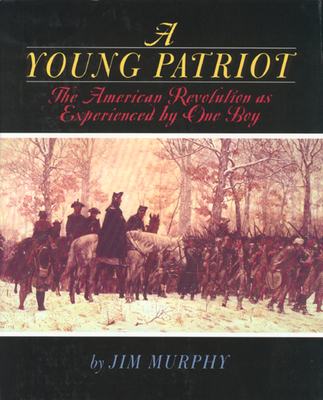 A Young Patriot (Paperback)
The American Revolution as Experienced by One Boy
Houghton Mifflin, 9780395900192, 112pp.
Publication Date: March 23, 1998
* Individual store prices may vary.
Description
In the summer of 1776, Joseph Plumb Martin was a fifteen-year-old Connecticut farm boy who considered himself "as warm a patriot as the best of them." He enlisted that July and stayed in the revolutionary army until hostilities ended in 1783. Martin fought under Washington, Lafayette, and Steuben. He took part in major battles in New York, Monmouth, and Yorktown. He wintered at Valley Forge and then at Morristown, considered even more severe. He wrote of his war years in a memoir that brings the American Revolution alive with telling details, drama, and a country boy's humor. Jim Murphy lets Joseph Plumb Martin speak for himself throughout the text, weaving in historical backfround details wherever necessary, giving voice to a teenager who was an eyewitness to the fight that set America free from the British Empire.
Praise For A Young Patriot: The American Revolution as Experienced by One Boy…
"A brief history based on the privately printed memoirs of Joseph Plumb Martin, who, at the age of 15, signed up for the Connecticut state militia on July 6, 1776, and stayed with the army for the next seven years. This work offers a view of the Revolutionary War missing from most books-instead of the broad sweep of dramatic events and change, readers see the daily misery, boredom, confusion, terror, and only occasional triumph of army life. Murphy provides the best of both, the drama and the grind, appeasing readers' fascination with war without romanticizing."

Kirkus Reviews with Pointers

"Murphy presents the life of Joseph Plumb Martin, a 15-year-old Connecticut farm boy, who enlisted in the Continental Army in 1776. . . . The book is generously illustrated with black-and-white maps and reproductions; captions present information that complements rather than repeats the text. . . . An outstanding example of history brought to life through the experience of one individual." School Library Journal, Starred

"Young readers researching the military and social history of the American Revolution will find this an excellent resource." Booklist, ALA, Starred Review