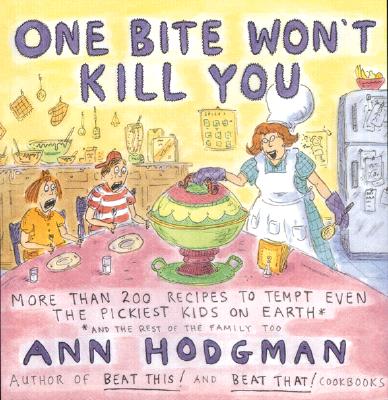 One Bite Won't Kill You
More Than 200 Hundred Recipes to Tempt Even The Pickiest Kids on Earth: And theRest of the Family Too
Paperback

* Individual store prices may vary.
Description
The toughest challenge many cooks face each day is feeding their own children. By her own admission, the writer and humorist Ann Hodgman's kids are the worst eaters in the world, and if she finds something one likes, the other inevitably hates it. Now, for all similarly beleaguered parents, Hodgman brings together more than two hundred recipes that everyone in the family can agree on, like Nonthreatening Cheese Fondue, Taco Bake, and Roast Pork Loin with Apple Crust, many of them gathered from fellow parents. ONE BITE WON'T KILL YOU also includes: menus for holiday meals, recipes for birthday parties, suggestions for in-flight and car-trip snacks, sections on feeding toddlers, preschoolers, elementary school kids, and adolescents. With hundreds of tips and anecdotes from other parents, ONE BITE WON'T KILL YOU makes the task of feeding kids not only a little easier, but also a whole lot more fun.
Praise For One Bite Won't Kill You: More Than 200 Hundred Recipes to Tempt Even The Pickiest Kids on Earth: And theRest of the Family Too…
"I like Hodgman's amiably resilient approach to feeding the young, and her prose is equally engaging. She really faces facts -- facts like Vegetables vs. Kids, Parents vs. Fast Food vs. Kids -- and she does it with good kid-oriented dishes that still have some grown-up flair. (Roz Chast's hilarious pictures are precisely right too.) Myself, I'd like to eat my way through the book, and I think any kids who don't go for at least three-quarters of Ann Hodgman's dishes should be sold as slaves." -- Peg Bracken, author of THE COMPLETE I HATE TO COOK BOOK

"I've always believed that useful information has no place in comedy, but Ann Hodgman has written a very funny book that would have made my childhood much nicer." -- Conan O'Brien

Tired of arguing over every last nibble? Comfortable with loading your cupboards with cream of mushroom soup and boxed muffin mix? This hilarious book could be the answer you've been looking for. Filled with tasty comfort food that's sure to delight folks of all ages, One Bite Won't Kill You reminds parents of the sure-fire tool for dealing with those advanced picky eaters: a sense of humor. Author Ann Hodgman, a former food editor from Spy magazine, is also the mother of two finicky eaters. Most of the recipes are fairly simple, and often rely on canned sauces and soups for key ingredients. Each recipe begins with a short tale of how the recipe came about, and the pages are filled with hilarious moments in the lives of picky eaters of all ages. The recipes have names like Taco Thing and Mud Puddle Cake and many are easy enough for older kids to tackle themselves. While this friendly, funny book is smart enough to make no promises about ending fussy eating permanently, it does a great job providing kid-tested edibles and adult-endorsed reminders that meals don't need to become battlegrounds. --Jill Lightner

Amazon.com

"Ann Hodgman is that rarest of creatures: a humorist and a cookbook author whose recipes really work." Newsday
Rux Martin/Houghton Mifflin Harcourt, 9780395901465, 368pp.
Publication Date: October 7, 1999
About the Author
ANN HODGMAN is the author of Beat This! and Beat That! Cookbooks and One Bite Won't Kill You. Her work has appeared in The New Yorker, the New York Times Magazine, the New York Times Book Review, and Food & Wine. She lives in Connecticut.
ROZ CHAST was born in Brooklyn, New York. Her cartoons began appearing in The New Yorker in 1978. Since then she has published hundreds of cartoons and written or illustrated more than a dozen books. Her memoir Can We Talk About Something More Pleasant, Please? was a #1 New York Times bestseller and a 2014 National Book Award Finalist.
 
or
Not Currently Available for Direct Purchase